Pin It
Hello, hello! How was your Christmas?? I took a little unplanned break from blogging because I wanted to spend some extra time with my family. We had two big family parties, had a lot of fun and kiddos got more toys that they know what to do with (surprise, surprise...)
This year we got a white Christmas. And by "white" I mean really REALLY white!! We hardly got any snow this winter up until the 24th of December when it started snowing almost non-stop (well, with a few brakes) for 3 days straight. We got A TON of snow, up to two feet in places. Just to prove that I'm not exaggerating, here's a mountain of snow that I got after shoveling our driveway for an hour today (and I only got half way through):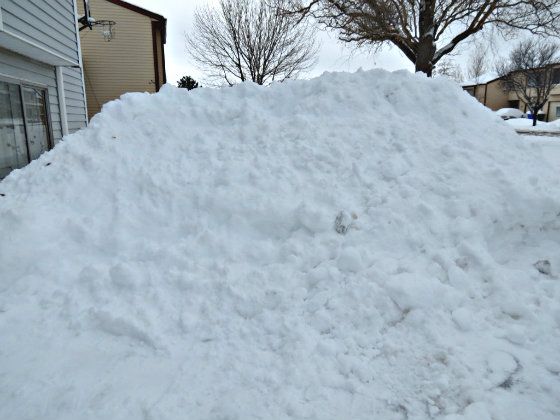 Do you see why I hope spring will hurry up this year??!!
I love the Christmas season but I'm really ready for 2013. I'm excited for what this year will bring! We are still working on our goals for next year. As you already know I have some uneasy feelings about our financial situation but I think we are working on a great plan together with Hubby. We have a few things we need to do around the house and some important saving categories we want to work on. I'm grateful not to have debt (other than mortgage) right now but I want it to stay that way too.
The last two months were pretty spendy for us for many reasons and I really need to get back on track. I will post our 13 in 2013 in the next few days.
But today I wanted to share with you my most favorite Christmas gift of 2012. I mentioned before that in Hubby's family we do a drawing for gifts, and my SIL had my name. And among other things she got me this:
This is kind of a Russian version of Santa Claus. In my country he's called "Grandpa Frost". And on the front of this ornament is a picture (or actually a carving) of beautiful St. Basil's Cathedral on Red Square in Moscow, Russia (Google it if you are curious- it's pretty impressive). It was just such a thoughtful gift that really hit close to home. I really do miss my family. I wish, they could be with us here for the holidays too...
Oh well, wipe away this tear...So what did you get for Christmas?? What was your most favorite gift of all time? Are you ready for 2013??!!