Pin It
I'm finally done with all the baking and the boys delivered most of the cookies today. Now on our list is some major cleaning and gift wrapping before Christmas Eve rolls in.
With only ten days left until the end of this year, I've been thinking a lot about what is coming for us financially in the next few months. With changes in health insurance and with us paying a little more towards retirement our income drops $120 a month. And it's a lot for us! To be honest, I didn't expect our insurance premiums to jump that high ( I don't know what I was thinking!!). They also discussed on the news the possibility of raising local property taxes which means a raise in mortgage payments too. I don't know yet what the difference will be but I'm not excited.
So Hubby and I have been crunching numbers and working on goals for next year. And just yesterday dear
Carla
posted a PERFECT Challenge for us. Say hello to
January Decluttering and No/Low Spend
Challenge: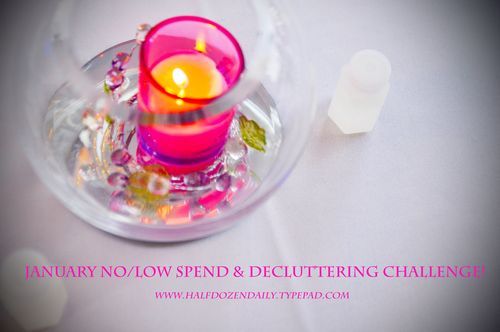 It's absolutely perfect! Especially the
no/low spend part
:) Because we are going hard core (for us, at least). We need to save some money and we need to figure out where we are starting in February.
So for our
financial goal
we are going to live on $15 a day! Yep, just $15 which means we will only have $465 for the whole month.
This will include:
Any groceries and necessities that we need
Eating out
Personal stuff (hair cuts, etc.)
Any other household expenses/maintenance ( I don't think there are going to be any major remodeling plans in January :)
Any miscellaneous expenses
Gifts (not including Hubby's St. Valentine's Day gift. I have something special in mind:)
Clothes
Things that are not included:
Gas ( we get most of our gas expenses reimbursed by Hubby's work)
Regular bills (mortgage, electricity, gas etc.etc. etc.)
Tithing and donations
Emergencies (let's keep our fingers crossed there won't be any...)
Medical bills ( we are still getting bills from Hubby's trip to the ER 3 months ago. Plus there's always something happening here, unfortunately)
Car repairs (we don't have any regular things scheduled - like oil changes but any other things will fall into the emergency category anyway)
$20 into the Christmas fund (gets taken out of our budget automatically every month)
Well, it's not going to be easy. Considering that our grocery budget is $280, it's even going to be tough. But I'm excited and ready for a challenge. I hope we can do it!
As for
decluttering
part of a challenge, we don't have much to get rid of. I did a lot this year, so it's more about organizing for us.
First, I need to organize my coupons. I used to be quite the couponer (nothing extreme though!) but this past year I hit the wall. Now I want to go back. At least, somewhat.
Second, the papers. All kinds of papers. I'm drowning in papers here. We moved into this house almost 4 years ago, and I don't think we shredded a single bill since. We really ( and I mean, REALLY!!) need to organize our file cabinet (s). So in January I'm decluttering our papers. And a few more things along the way :)
Thank you Carla! I'm excited for a challenge. And mini-challenges along the way :)