Pin It
One week down, three more to go! I thought I would write a small update. One of our goals this month was to finish four projects around the house here. I'm happy to say that we are done with the biggest one of the four - we painted our living room!
It wasn't a bad color to begin with: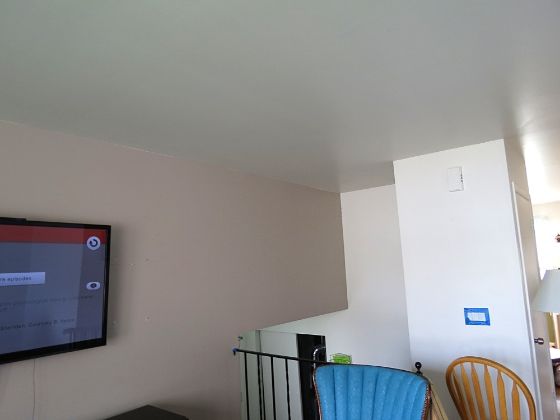 I took this picture in the middle of the painting process, hence all the mess. I promise, it's usually cleaner and less cluttered :) This color was natural and pretty, just too dark. We only have one window in this room, and no ceiling light. So it would get SO dark in the evenings. The new color works so much better:
It's not a big reveal :) It's just a little sneak peak into our living room :) Lots of things still need to be changed here. But this is Valspar Polar Star color. It's such a pretty, very light grey - it's not white. If you look at the border with the ceiling you'll see the difference.
It makes our living room so much brighter and lighter. I'm in love with this color!
But we spent the WHOLE day yesterday moving furniture back and forth, patching walls, sanding, taping and then painting, painting, painting...I saw somewhere that if you paint for 3 hours, you burn 725 calories. I think I burnt all 2000 yesterday!! My body is still aching today as if I did a triathlon or something...
But I'm happy to be done! We want to eventually install crown molding in this room (That's why we didn't tape the top when we painted). Our house value went up significantly in the last few months, and even though we are not going anywhere, we want this place to be in top shape when the time comes. And little changes make a huge difference!
Other than that, this week I went grocery shopping and bought tons. I stocked up on necessities and some canned and frozen foods. I think, I will skip grocery stores next week. I might need milk though. Oh, and diapers...Potty training really drives me crazy...I might just give up and let him pee his underwear until he's in high school...Ugh...He's in his underwear all day long but I put a diaper back on for the night. Twenty pairs of undies don't last long...So far he peed in the toilet once. And he hates it...
Oh well, I know you are so excited to read about our bathroom adventures :) Sorry, I just needed to let off some steam :) How was your week? Anything exciting happened?