Pin It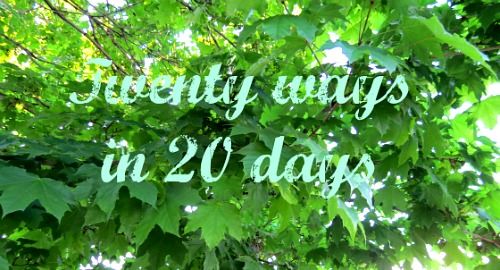 It's amazing for me to see that June is almost out of the door already. Seriously, where did this month go?? I felt like weeks were just flying by in a blur. I never posted yesterday what made me happy (for "Twenty ways in 20 days" challenge) but, honestly, I'm happy that this month is almost over!!! It was a very long and stressful month. There were so many things I wanted to do and achieve but never did. I worked a LOT more than I was used to, and it just seems like my whole world has shifted. Which it did, if you think of all the changes that are coming soon.
But what was the hardest is that I love to have things under control, I love to
balance my time.
And now I just feel that I can't get a grip of things. Talking about getting a lesson on humility, faith and trust :) Because that's exactly where I am right now.
On the other hand (and the thing that makes me happy
today
!), I'm so happy that I did this challenge! It really helped me to slow down and find at least one thing every day to be grateful for. Seriously, I don't know how I would have survived through June without it!!
Even when life sucks, there is always ALWAYS something to be happy about and to be grateful for! Even when you can't see the sun, it doesn't mean, light isn't there.
With a few adjustments, I'm slowly getting life balance back. We are not where we want to be but we are where we can still thrive and be happy...
And what made you happy today, this week, this month??