Pin It
I got pregnant with our first child five weeks after we got married. It was a happy but VERY unexpected surprise. When my Mom found out I was expecting, she started planning immediately how to save enough money to come and be there for me when I go into labor.
The first year in the US was not an easy one for me. American movies like to portray Russian men as mafia and Russian girls as gold diggers (if not worse). Well, let's say, I wasn't one of those girls. I met my Hubby in Siberia, Russia, and when I married him he was a poor student working in retail. I married for love.
But leaving my loved ones behind was, probably, the hardest thing I've ever had to do. The first year here was the hardest. Even with a loving and caring husband by my side, I felt depressed and lonely. So when I found out that my mom was going to be there when I would go into labor, I was ecstatic.
Well, she didn't make it :) He was born ten days early, and I had a nightmare of a delivery. So she came ten days later on Tuesday, and on Thursday night I was back in the hospital with terrible pain in my stomach. Turned out that, more than likely from pushing for more than 3.5 hours, I got a rapture inside of me that soon turned into an ulcer. And that night it perforated. I spent almost the whole week in the hospital recovering from the emergency surgery while my Mom was home alone with my baby.
But she was not alone. Hubby's family and the wonderful ladies from our Church were always by her side helping out, buying diapers and, most importantly, plain feeding her. My Mom doesn't drive, couldn't go shopping and speaks very little English (the ten words that she knows don't count :). And none of those sisters spoke Russian (duh!) but they miraculously understood each other. Since then, every time I make a meal for a friend who just had a baby, I think about those amazing women, and even now, six years later my heart is still filled with gratitude. Like it was yesterday.
A little over a week ago our friends had the cutest little baby girl. We haven't had a chance to visit them since but I wanted to do something nice for them.
This week I decided to wrap an extra meal in our menu just for them. We happened to have a small 2lb boneless pork roast in the freezer, so I baked it with some spices (it smelled SO good). I added mashed potatoes and corn on the side: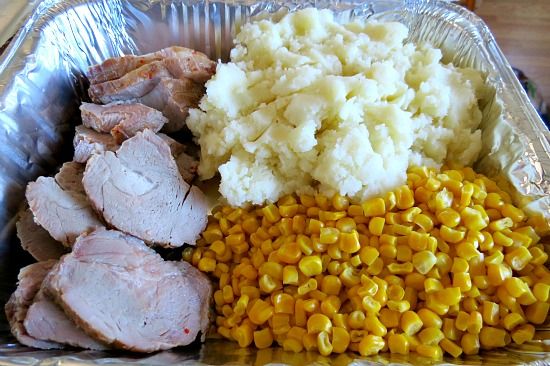 I also added a little dessert - a simple pumpkin roll with cream cheese frosting (it's one of those few baked goodies that always turns out good for me :)
Today it was about paying it forward and sharing the love that somebody shared with me when I felt that nobody cared...
How was your day?