Pin It
The first time I heard the word "compote" here in the States, I was surprised to find out that it's not exactly what we use this word for in Russia. Back at home "compote" (or "kompot") is a delicious drink made from fresh or dried fruit or berries.
Every time I make applesauce or can pears, I just feel wrong throwing away all the peels. So I started making kompots from it. It's pretty easy to make, tastes delicious, and did I mention all the preserved vitamins? Such a great alternative to soda for kids.
So you will need:
3 quarts water
peels from 10-12 pears
1 cup sugar
2 TB lemon juice plus a couple of slices of fresh lemon
1/2 tsp cinnamon (optional)
a handful of raisins
How-to:
1. Fill a big pot with 3 quarts of water and add 2 TB lemon juice.
2. As you are working with your pears (for example, for
canning pears
), put all the peels into the pot: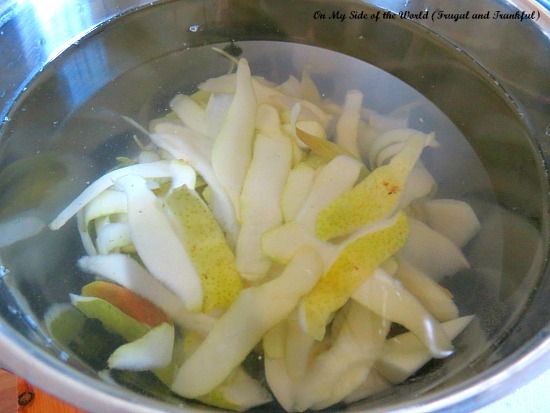 3. When you are done, put the pot on the stove and add all the rest of the ingredients. Cover.
4. Bring to boil and cook on medium-high for 10-15 minutes.
5. Turn the stove off and let sit until completely cooled down.
6. Strain. I usually use cheese cloth if I make it with cinnamon to make it a little clearer. Refrigerate. That's it! All that is left is to enjoy my kind of "champagne" :)
PS - and if you decide to use whole fruit (because it's even yummier), just adjust sugar to taste, depending on how sweet your fruit is. You can also add other fruits and berries - like plums, strawberries, peaches (but not their skins!) - to kompot.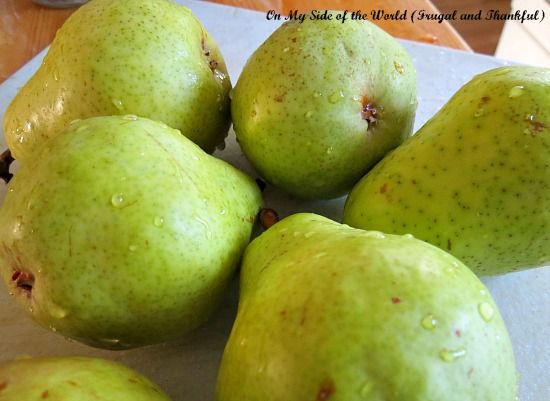 I shared this post with these awesome parties:
This Gal Cooks
I should be mopping the floor Homemaker on a Dime
Under the Table and Dreaming