Pin It
For the past few months I've been organizing and reorganizing our freezers. Again and again. We have two freezers: one is the basic side-by-side fridge. The other one is this beat-up monster: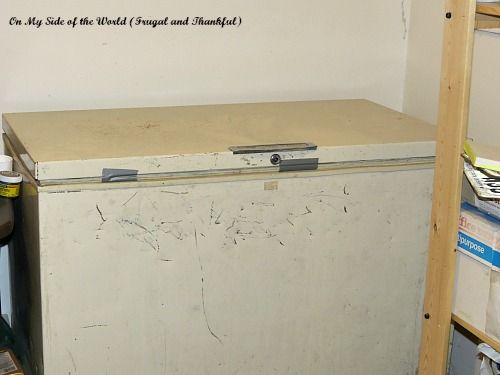 If you are wondering what happened to it, I do too. We got this chest freezer about 4 years ago for (drum rolls, please...) $10!!! It might just be the best find of my life! Seriously! Yes, it looks like someone was hitting it but inside it's not damaged at all. And it works great, duck tape and all ! I was skeptical at first but for 10 bucks it was worth a try...
As I said, I've been organizing it again and again but now that I'm trying to keep up with the September challenge, I really needed to know what I have! It was time to have a checklist. But after looking through what felt like a hundred of different ideas, I realized that I wanted something different.
So I asked my sweet and super-talented Hubby to make it for me:
It's really very simple. I write down everything we have in stock, and when we use something up, I just cross it off the list: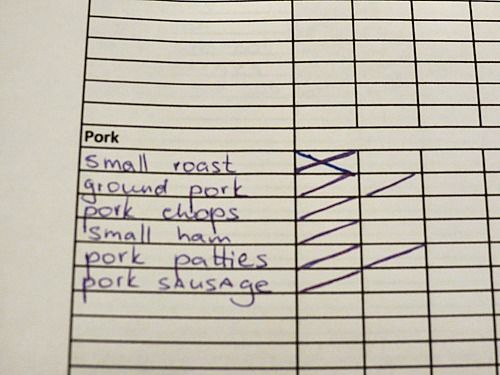 As you can see, our stock is pretty modest (if my SIL hadn't brought us about 4 lbs. of ground beef, I wouldn't have anything in the "beef" graph :).But I was happy to find a pack of pork chops and a pack of chicken breasts that I didn't know we had!!
My life is so much easier now that I know what I have on hand in our freezers. This inventory list has all the categories of our usual stock:
1. Beef
2. Pork
3. Poultry
4. Seafood
5. Fruit/Vegetables
6. Freezer meals
7. Miscellaneous
Now there is no more guessing. I know exactly what we have. I know this might not work for everyone, but if you are interested, you can print your own copy of the list
here
. Totally free! :) And if your stock is much bigger than mine, you can write a date instead.
Do you have a freezer organizing system?