Pin It
First, thank you all, guys, for your get well wishes!! You know you are amazing, right?? Today I'm definitely grateful for friendships and all my blogging friends.
We had a good night and woke up feeling much better. Kiddos are still not doing that well but at least their fevers went down. My older one had a croup-sounding cough yesterday and we were thinking of taking him to the doctor this morning but after using a warm humidifier in his room and putting some rub on him, he felt way better this morning and hardly coughed at all. We don't have health insurance yet (it kicks in on the 1st of January), so if we could avoid another big bill, it would be nice. But if he feels worse tomorrow, then we'll have to take him in...
He did miss a pizza party at school today. Their class won a Box Tops competition for the whole school, and he was so looking forward to it. My poor little guy! So instead we did Papa Murphy's for dinner to somewhat compensate for it and raise up his spirits a bit. We ordered online and used a $4 coupon, so it wasn't too bad.So that's what we ate today (on Monday)
But before I turn to our menu, we did have a little bit of food waste last week. I didn't make it the whole month with no waste, unfortunately: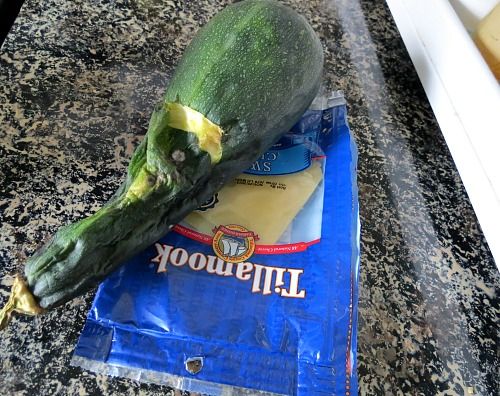 Just a couple of pieces of cheese that got a little moldy and the last zucchini from our garden. I was so disappointed about it! I knew it needed to be used but the other side still looked perfect in the fridge until I flipped it...Ugh, I really don't like to waste food. And I desperately need to clean our fridge...
And this week we are eating (or hoping to eat. Who knows how this week will go...):
Mon.- pizza, salad
Tues.- couscous, coconut shrimp, baked beans, corn
Wed.- spaghetti with steamed veggies
Thurs.- Thanksgiving dinner with hubby's Mom's side
Fr.- ? leftovers ?
Sat.- my sister's B-day
Sun.- Thanksgiving dinner with hubby's Dad's side
Wow, this might just be my least planned menu in a while:) And I have a feeling, I might gain a few pounds this week...
Have you wasted anything recently that you were really unhappy to throw away?