Pin It
I'm a Scrooge. I do not like spending money. I especially don't like spending it on myself. I guess I belong to that sad group of people who don't think they deserve "this" or "that", and would rather spend it on the kids (or stash into savings if kids don't need anything). I know that Dave Ramsey likes to point out the importance of the "blow" money but I'm yet to learn to blow without feeling guilty...
It happened to me again yesterday. In the past few weeks my body started turning from a cute little pregnancy-belly mama into a clumsy waddling duck. Just FYI, I measure about 34-35 weeks right now, and it's getting increasingly hard to walk or do simple things. Considering I still have more than 10 weeks to go (in reality), it makes me a little uneasy, to say the least...
The other problem I ran into is that I have less and less maternity clothes that I still fit into. In fact, I'm living in leggins and shorts about 80% of the time. I knew that I needed to buy more or, should I say, bigger clothes because even though I'm all for comfort, I still need to look presentable when I go to Church, for example.
I needed a new skirt. After scavenging a few thrift stores in fruitless attempts I had to accept the fact that there are just no comfy (or really any) skirts out there in a 25 mile radius from our house, so I have to buy new. The thought made me cringe because I would only wear it for 10 weeks... And yes, I could, probably, make one myself but try to do it when your belly extends another 10 inches in front of you... Yeah, not happening.
So to the Old Navy we went. I found a simple, black
maxi skir
t and turned the tag: $29.94. Ouch! After pacing a few circles around the store, I finally convinced myself, "Buy the skirt or go naked, girl!" At around that point my legs gave up on me and I passed the skirt to my sweet husband who was nice enough to accompany me to the store and then I found a spot to sit down...
As he was standing in line, he noticed another tag that I didn't see at first. He gestured me about the discount: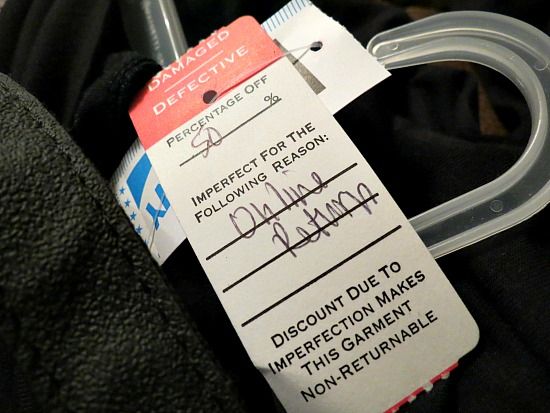 Nice!! The price was getting better by the minute. But when the cashier ran the tag, the price just became incredible. You want to know how much we spent??
Yep, just 51c!! Hubby even double-checked it with the cashier but she said that if that's what it rang for, that's what we pay. The little Scrooge in me was really happy! And there is nothing wrong with the skirt but, apparently, if it was returned for any reason, they are not allowed to sell it for full price. Store policy. Gotta love me some Old Navy...
It's all about the little blessings in life :)...
Have you gotten any awesome, fantastic deals lately that you care to share? Or, maybe, your best find ever?