Pin It
Hello, everyone. How was your day today? I spent quite a bit of time cleaning the house but now it's sparkly-clean, and I'm loving it.
I was expecting to receive an e-mail with some new work assignments but never did, so instead I spent quite a bit of time updating and changing my
DIY Gallery
(former Project Gallery on this blog). Let me tell you- it was a major pain!! But I'm happy with the results. What do you think?
And I wanted to quickly update on the first week of January No/Low Spend and De-cluttering challenge (while I can still keep my eyes opened :)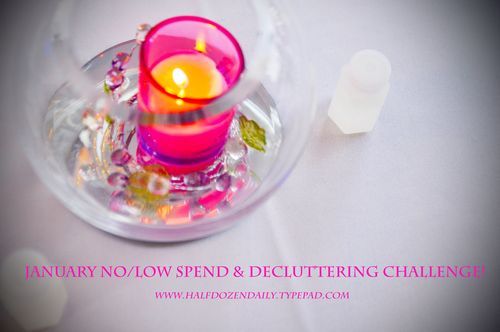 I kind of updated it partially
HERE
. I've been slowly de-cluttering and going though kids' stuff. I got another bag of toys and clothes to go to charity. As for the mini-challenge, papers of all sorts are definitely clutter culprits in our house. So I think, organizing coupons counts towards the mini-challenge :). And it helps us to save money too. In the last week we saved $15.75 thanks to coupons alone (I decided to track it to see how much money we will save).
As for financial side of it, as of today we spent
$111.14
which is still below our goal of $15 a day. This includes some groceries we bought on Saturday and today (kids eat A LOT!) and a $25 baby shower gift. I also bought a new pair of jeans for myself because my favorite jeans will soon have a hole in the knee :( I have a couple more jeans but, unfortunately, they don't fit as well as I would like them to. And I can never find good jeans for me at the thrift stores. I wear the most popular size (M) and I really don't like low boot-cut styles. I don't wear a high waste, don't worry, but nobody wants to see my butt crack when I bend to my kids!! But we have a local Fashion bug store going out of business close by, so I found a cute pair there for just
$9 (70% off)
. I actually really liked their jeans, and I'm going to miss this store. It's not exactly a good way "To make do" (a second mini-challenge :) but it was something I really needed. As for make-do, I think I can count baking bread instead of buying it this week.
How did you do this week with your spending/decluttering?
I will link this post at Carla's site here
.