Pin It
After my failed
new brownie recipe attempt
, I was still craving something sweet. So I decided to turn to a recipe of my childhood - delicious cookies called "peaches":
I remember eating them for most major holidays and occasions. They are not hard at all to make, and look beautiful. I apologize that some pictures are a little dark, I was baking later in the evening :)
YOU WILL NEED:
2 eggs
1 cup sugar
7 Tbsp. unsalted butter
2 Tbsp. sour cream (not fat free!)
2.5-3 cups flour
1 tsp. vanilla
1/2 tsp. baking soda (+ 1 tsp. vinegar)
1. Preheat oven to 350 degrees F.
Melt butter.
In a large bowl, whip together eggs and sugar until light and fluffy, for about 5 minutes.
In a cup add vinegar to soda and have a fun science experiment with the kids :) Add sour cream to soda mix and stir nicely. Combine egg and soda mixtures with butter and vanilla, and mix together well.
2.
Add flour, one cup at a time, and knead until you get nice but still soft dough. Make it into a ball and wrap in plastic, then put in a fridge for 30min -1 hour.
3.
Get dough from the fridge.
Shape it into walnut sized balls and put on a very lightly oiled baking tray about two inches apart.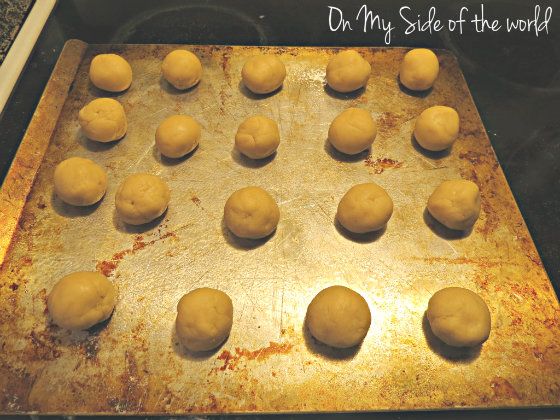 4.
Bake for about 15 minutes (until barely gold on the bottoms - you don't want them to get too hard!). Immediately take them off the baking sheet and put on a slightly damped paper towel to cool for a few minutes.
5.
Then take a sharp small knife and cut out cookie bottoms like this:
6.
Now you can fill cookies in with all kinds of frosting -Nutella, cream cheese, any buttery kind. I used a can of this whipped with 2 sticks of softened butter (it's to die for, you would want to eat it with a spoon!):
This caramel frosting also tastes delicious mixed with a cup of browned chopped walnut or pecan pieces. Or you can just put half of walnut/pecan in the middle of a cookie as a "pit".
7.
Then comes the fun part - coloring it! You can use food coloring (yellow, and red with a drop of blue) or beet and carrot juice (that's what I usually use). Take a food brush and use carrot/yellow color first following with beet/red color until it looks like a peach: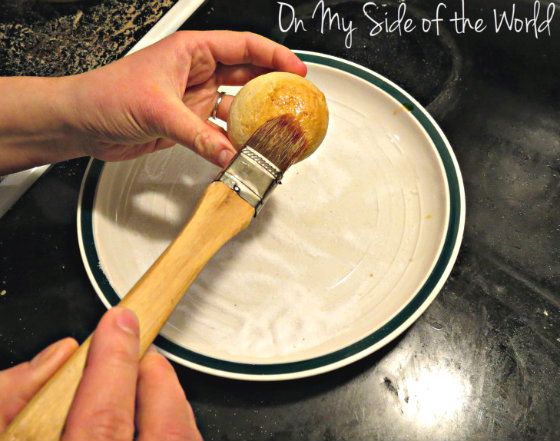 For a more "peachy" effect roll in sugar right after "coloring". Refrigerate for half an hour before serving.
Store "peaches" in an airtight container.That's it! I told you they were easy :)
PS- I forgot to mention that if you use the real vegetable juice for color, it's better to eat them within a day or two, or cookies can turn brownish.
I shared this recipe with these fun parties: