Pin It
I mentioned before that this year we decided not to give each other Birthday gifts. Because of that we bumped up our Valentine's Day budget a bit. Usually we spend no more than $25 but this year we decided on $50. But we both spent a lot less than that.
This time I had a gift in mind that was not romantic at all. But it was something he really wanted. And because we are working on quite a few projects here, it was a need as well. I know you are curious now...I'm not going to tease you any more :)
This is what I got him this year for Valentine's Day: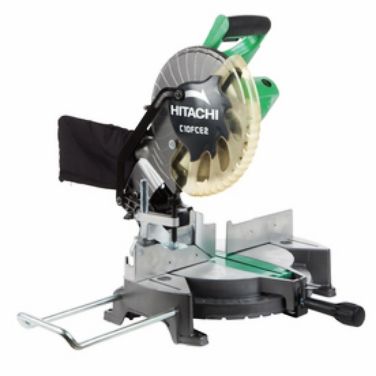 I told you it wasn't romantic :) Let me introduce you to the
Hitachi 10-in 15-Amp Compound Miter Saw
. It has 5-star reviews and works great (we already tried it for one of our household projects. More on it next week :). Until now my husband only had a handheld saw and a miter box, so it was time to upgrade.
I've been looking at this saw since even before Christmas. But I already had a Christmas gift for him, so it had to wait. And finally, it was time :)
But as you can see, it wasn't exactly $25 or even $50 :) So here's how I got it a lot cheaper.
1. First, I researched.
I knew exactly what I wanted to buy. There were different miter saws for sale too but this particular one had 62 reviews, and most of them were 4 or 5 stars. My husband is only learning to work with wood and molding, so it seemed like a perfect choice for him.
2. Second, I waited.
All January and the first week of February the saw was full price. But I was hoping that it would be discounted a little for the holidays (not necessarily for Valentine's Day but, maybe, for President's Day :). And I was right! Last week it was discounted 14%, from $139 to $119! Score!!
3. Third, I got a gift card.
For free. I mentioned
My Points
to you before. It's a great way to accumulate points for doing search and reading e-mails. You can then redeem those points for gift cards to a variety of retailers. Last year I accumulated enough points to get a $50 gift card to Lowes.
4. Forth, I redeemed our credit card points for cash.
I do use a credit card (gasp!!). We use it mostly for gas and occasional online shopping. But we pay it off every month. We've been accumulating points for a while, and I had enough to redeem $46.90. Again, free money :)
5. And the last thing I did was shopping through a cash back site.
I opted for
Shop At Home
that gives 3% back for Lowes which saved me another $3.57.
So all in all, with a little planning and after all these discounts and including taxes, I spent only
$26.68
for this awesome gift for my Hubby. I love him so much and love to see him excited. He still thinks I cheated, but oh well...He was happy :)
Did you get any good discounts recently? How do you save money for gifts?
PS- I am not an affiliate in any way with the links provided - they are not referral links. I just like these sites because they help me to save some money.