Pin It
Oh, why can't we start every week with Tuesday?? Call me paranoid but I DO NOT like Mondays. On top of the fact that it's the end of the weekend and the beginning of the work week, there is always something going wrong on Mondays.
This morning my husband went to check on our tires. They weren't staying inflated as they were supposed to in the last few weeks. Turned out that two of the front tires were worn down to the ribs, and in one of the back tires there was a huge screw. No wonder they were deflating! Only one of the back tires was still in good condition. So before it was 9 in the morning, we already spent $200 on new tires :( At least, we got a good deal on them. But we only had $200 sitting in our car repair fund, so it was wiped out. On top of that, the guy who put on our new tires, told Hubby that there might be something wrong with car alignment, and that's why the wear on the front tires was more significant. And that means more repairs and using our emergency fund :( Now you see, why I don't like Mondays?...
And I was so immersed into thoughts of this new financial complication that I managed to do two loads of laundry and dry and fold it all before I realized that I forgot to use detergent :( Big big sigh...
I sure hope, your Monday is better than mine? :)
To put a cherry on top, we did our budget over the weekend and realized that we are $10 over in grocery budget for the month :( I'm really debating if we should bump the amount we set aside every month for food. It seems like everything is getting more and more expensive. We do spend a lot of money on seasonal fruit and vegetables, but I'm not about to deprive our kids of that. Do you feel like everything is getting more expensive where you live??
So for the rest of the month we are using what we have. Luckily, both our fridge and pantry are nicely stocked. I was really trying hard to use up all the leftovers last week, and I'm happy to say that we don't have any food waste two weeks in a row!! I'm excited about that :)
And this week we are eating:
Mon.- teryiaki salmon (bumped from last week), cauliflower bake
Tues.- plov, salad
Wed.- broccoli cheese soup, corn bread muffins
Thurs.- pasta, meatballs, steamed broccoli
Fr.- pizza and leftovers
Sat.- hot dogs, sweet potatoes, whatever fruit and veggies we have by the end of the week
Sun.- Birthday party with the family
OK, I just thought that this post was too gloomy. But there are still things to be happy about. Like these beautiful tulips from my Hubby and friends that I look at every time I walk into the kitchen: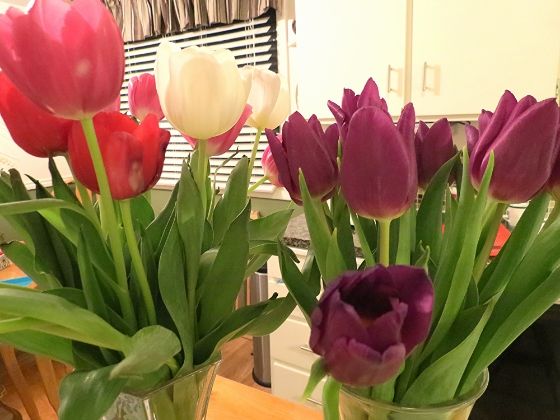 I love fresh flowers any season but especially in winter. I can't wait for spring months when we'll have our own in the garden.
And another thing that brings a smile to my face today:
I'm getting more and more in love with sewing (still mostly straight lines :). I bought these great fleeces and minky fabric to make a baby blanket and some burp clothes for our new nephew who will join our family in a couple of weeks. Can't wait to sew them this week!
So what were your ups and downs today?