Pin It
"In this world nothing is certain but death and taxes."( Benjamin Franklin)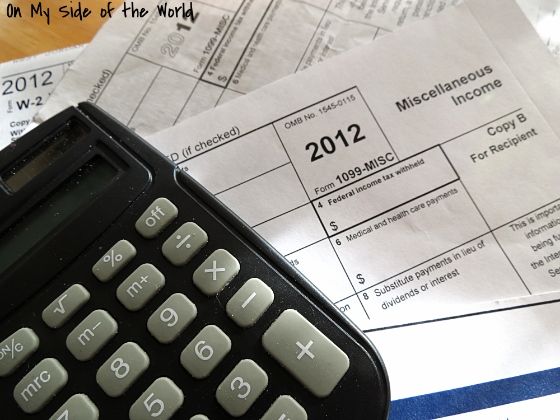 I had such a long day yesterday...I literally left home before nine and came back after seven. I'm so tired!!!
First, I was helping in Kid's class, then we went to a couple million stores unsuccessfully looking for something for another project. After that we went to Lowes to buy paint and paint rolls. Then we stopped by the Russian store, and after that we went to do the most important (and the most time-consuming) thing on our to-do list - TAXES. It took us a while to get Hubby's 1099 for his bonuses from last year. The part-time accountant at his work is absolutely terrible. She never returns calls or e-mails and only talks to the owners of the firm (she's too good, I guess, to talk to the little guys). And she waited till the very last second before the penalty dead line to get the 1099 to us.
Well, at least we got it... Because of Hubby's bonuses we weren't sure if we would get anything back or if we would end up owing. I really need to study more this year about how taxes are calculated. Well, to our surprise we did end up owing $87 to the state but we will get almost $1700 back!! We are excited. We tried to use a free calculator on Turbo Tax but it was just too confusing (and showed us that we will only get like $500 back). We actually used a free service offered by the state (for those whose combined income is less than $50000 a year to file. It's operated with the help of volunteers who do taxes for a living. We've been using them for the past 4 years because our income is far from the limit :)
So now we are thinking about how we want to use that unexpected money. More than likely, we'll save most of it but we are thinking of buying a new stove too. Our stove that we have right now, came with the house, and I suspect, it was original from the time the house was built (and that is more than 30 years ago). It' just slowly dying, and we really need to get a new one. At first, we were thinking of putting some money aside for it but now we can afford one.
But we won't start shopping for it until we actually get the money. Until then I'm just happy to be done with our taxes until next year!