Pin It
I mentioned before that I scored some mahi-mahi for just $3.99 a pound! We love fish but rarely buy anything but tilapia or salmon when it goes on sale. So this was a real treat for us.
I decided to make it with some Asian flare using ingredients I already had on hand: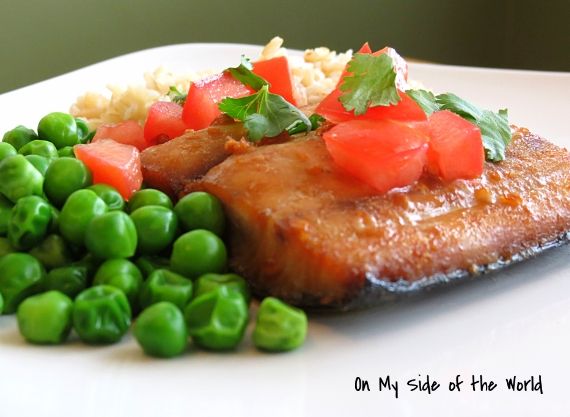 INGREDIENTS
:
3-4 mahi mahi fish fillets
1/3 cup teriyaki sauce ( I used Kikkoman)
3 T. brown sugar
2 T. apple cider vinegar
1/2 tsp. ground ginger
3 small garlic cloves, minced
pinch of cayenne pepper (optional)
cooking spray
HOW-TO:
Combine all the ingredients but fish and cooking spray and whisk together really well. Pour 2/3 of prepared sauce in a ziploc bag, add mahi mahi and marinate in the fridge for at least an hour.
Preheat your oven to 350F. Spray a baking dish with cooking spray. Put fish in with skin side down add baste with leftover marinade from the ziploc bag (not the 1/3 you reserved!!). Cook for about 15-20 min., depending on the thickness of your fish.
In the meantime, reheat 1/3 cup marinade on the stove or in the microwave. Serve fish with brown or wild rice and your choice of veggies. Garnish with diced tomatoes and pour marinade over right before serving.
I shared this recipe with these awesome parties:
The M

andatory Mooch
Hookin Up with HoH
I should be mopping the f

loor
Clean and Scentsible