Pin It
"Whose adorning let it not be that outward adorning of plaiting the hair, and of wearing of gold, or of putting on of apparel;

But let it be the hidden man of the heart, in that which is not corruptible, even the ornament of a meek and quiet spirit, which is in the sight of God of great price" (1 Peter 3:3-4)
When I was a teenager, I didn't have my own bedroom. My family lived in one-bedroom apartment, so my sister and I slept on two convertible couches in the living room. My only outlet and personal space was a corner desk and a huge wardrobe that separated "my area" from the rest of the living room. Inside the wardrobe doors I hung all of the close to a young girl heart's things. It was my private oasis filled with memories, ideas and inspiration. And in the very middle I had this poster: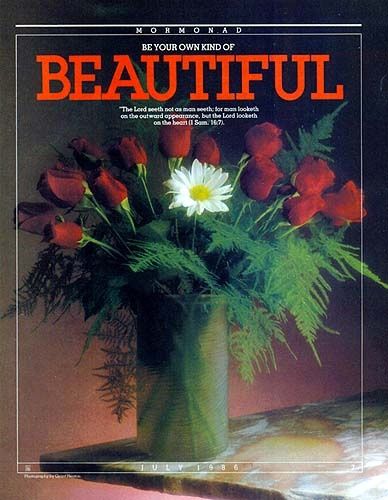 (in case you are wondering, it's Samuel 16:7 on it). I hung it there to remind me that I'm worthy, special and yes, beautiful...I was a skinny teenager with pointy knees and a crazy mane of hair. I can't really say that I was particularly fond of myself so I often laughed that yes, I was a daisy among all those roses. To be different was beautiful too!
A few weeks ago I stumbled upon a picture on Facebook that left me puzzled and sad:
(via)
These are Valeria Lukyanova (from Ukraine) and Justin Jedlica also known as the real-life Ken and Barbie. If you Google their names, you can find more about them. In order to look like this, they (or at least he because she claims that she only had breast implants done) had multiple surgeries done to their bodies. The first thing that came to my head was how much should you hate yourself to go under the knife so many times so you can look like a plastic doll?? What struck me too is when SHE was asked about the plastic surgeries, she said she did it because she wanted to be "perfect". Is that what perfection looks like?
My boys are still little but I always think about what ideas and ideals they will have when they get older. The body images that this generation sees blasted all over the media send messages that have nothing to do with real beauty. This often causes bizarre behavior, mood swings, depression and eating disorders. Honestly, it's scary!
But it's not just about the kids/teens/tweens. Grown-ups do this too. We beat ourselves up because we don't fit in a certain mold