Pin It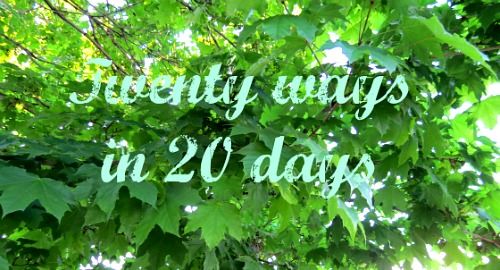 Saying goodbye to May...What a month it has been...Definitely not going to miss it! I can't say June will necessarily be better but, at least, this time we are more prepared. I think...My emotions have been all over the place, and not just from my thyroid issues :) So June is the month to do something about making life happier!
Many of you decided to join me in "Twenty ways in 20 days" challenge. I'm so happy that you are here :) The challenge starts on Monday, June 3rd. For the whole month (minus the weekends) I want to work on twenty happiness-boosting things. If you want to join me, there is still time. In fact, it's never too late :)
I'm not going to share my list with you today for two reasons: first, we all will have different things that make us feel better. It doesn't have to be all uplifting or inspiring. Seriously, if a clean closet makes you feel better, you can clean twenty closets, one per day ( if you have that many. Or you can squueze in a couple of bathrooms in the midst...). I don't want you to have my things on your list, I want you to have yours :) And my list will be one crazy mix anyway :).
Second is...well, I'm still working on my list :) Mostly, it's done. But I still have a few days and ideas I'm thinking about....That's why it's not too late to join me :)
Just think about how you want to improve your life and what you want to achieve...\
what matters to you. And then come and share with all of us. Because I can't wait to see what you are up to :) Let's all make this month just a little happier...