Pin It
I promised you yesterday that I would share my recipe for turkey stuffed peppers today. I finally got to it :)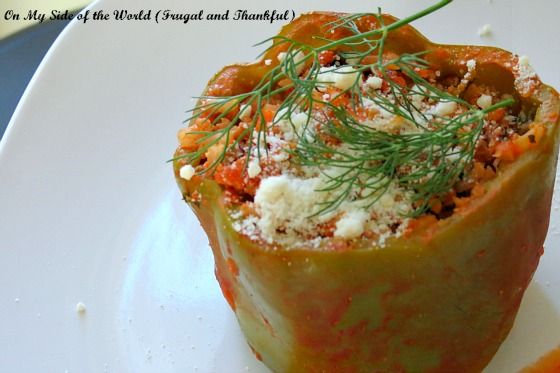 YOU WILL NEED:
-5-6 green peppers, appr. the same size
-1 pound ground turkey
-2 medium carrots
-1 cup frozen spinach (before de-frosting)
-1-1 1/3 cup brown rice (great way to use up leftovers)
-2 8 oz.cans tomato sauce
-2 TB sour cream
-2/3 TB white sugar
-1 TB vegetable oil
-1/2 tsp. dry parsley
-1/3 tsp onion powder
-1/3 tsp dry basil
-1 TB grated Parmesan
-salt to taste
HOW-TO:
1. Bring water in a big pot to boil.
2. Start cooking ground turkey in 1 TB vegetable oil on medium heat, stirring occasionally. While it's cooking, grate carrots. Then defrost spinach in the microwave and squeeze dry.
3. Cut tops from peppers and remove seeds and ribs. I want to give you a disclaimer: if you use peppers of other colors, you can avoid the next step, just increase cooking time for another ten minutes or so. I prefer to use green because they are cheaper but still taste great in this recipe.
4. Blanch peppers for about 3-5 minutes in boiling water, then drain in a colander and let cool:
5. When meat is almost done, add a half of grated carrots and spices. Cut until carrots are soft, then add rice, parmesan and half of a can of tomato sauce and heat through on low, stirring constantly (be careful not to burn!):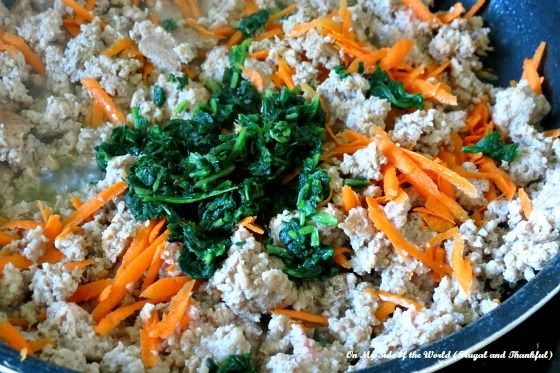 6.In a separate bowl mix leftover tomato sauce, carrots, sour cream and sugar with a little water, then pour it on the the bottom of the big pot (I just reuse the one I used for blanching to avoid washing more dishes :). Stuff the bell peppers with rice filling all the way to the top.
7. Place peppers in the pot, add enough water to be about 1/2 inch away from the top, and cook on medium heat for 20-25 minutes. It will result in soft and delicious peppers!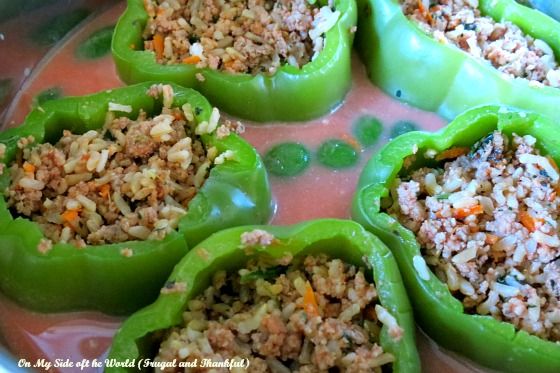 Sprinkle with some grated parmesan before serving. Enjoy!
I shared this recipe with these awesome parties:
The Shabby Nest
Blissful and Domestic
I should be mopping the floor
Marvelous Mondays
The Sunday Showcase by Stephanie Lynn
Homemaker on a Dime
Uncommon Designs
Not just a Housewife
Ginger Snap Crafts
The Real Housewives of Riverton
Carole's Chatter