Pin It
As I was doing a crazy amount of ironing yesterday, I was watching "Say yes to the dress" on Netflix. Don't ask...I just wanted something that doesn't require much thought...Surprise, surprise, it did make me think :) Or more remember, my own wedding and my dress.
Honestly, it was crazy to see how much money some brides spend on a dress. There was one who bought a dress for $22000!! It's like a down payment on a house! On the other hand, there was the cutest Grandma of one of the girls who got married in 1944 and paid $25 for her dress :)
My own dress wasn't much more :) All because my wonderful Mom made it for me. She's an amazing seamstress (I wish she'd passed that gene on to me... sigh...and an even bigger sigh...) but it was her first ever wedding dress. I wanted something modest, and dresses like this are virtually non-existent in Russia. But I think, she did a great job: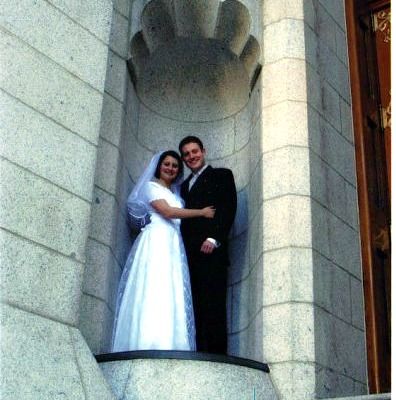 Sorry for the grainy picture -it's a scanned version of it :). The funny thing that made this dress so cheap is that the "lace" we used was actually a curtain lacy fabric. We couldn't find a true "wedding" lace because they only sold it in a specialized store in a different city, and we would have to wait for three months for our order to arrive. We just didn't have time. But it still turned out great, and nobody noticed :)
I don't say everybody should go my route. I mean, if you have 20+ thousand dollars to spend on a wedding dress, kudos to you :) After all, a wedding is a very special day that you (hopefully) want to remember for the rest of your life. Whatever makes you look and feel special. I was just surprised at how expensive some of these dresses can be.
So now I'm curious about you :) How big or elaborate your wedding was? What about your dress? Do you have any regrets? And if you are not married yet, what do you want your wedding to be like? I want to know it all :)
And on very non-related topic, as part of my Twenty ways in 20 days, what made me happy today (on day 16) is that I finally joined Bloglovin. I'm going to miss Google reader (you know that I don't like change) but so far I'm liking Bloglovin. It's not nearly as bad as I thought it would be :) Have you made the switch? If you didn't, don't wait because Google reader/Blogger dashboard will dissapear in just a few days, on July 1st! And if you want to follow me on it, you can click on my button on the left. I would be happy if you did ;)