Pin It
My name is Lena, and I'm a craftoholic...There, I said it! :)
For the past few weeks, being creative wasn't exactly on my radar. I've been mostly working or playing with kids and then occasionally cooking or sleeping. Cleaning...hahaha...
But an addiction to crafting and DIY was still there, strong and powerful. And I finally caved in :) I realized that I need to have "me" time doing things I really enjoy but without spending
much
anything.
This project was not only to feed my habit but a necessity too. One thing that's been driving me insane ever since we bought this house is no overhead light in the living room. We only have one room in the house where we can entertain, watch TV, where kids play and, pretty much, where life goes on. But lately I've been working here too. I have
this little work corner
in our bedroom instead of an office but the kids always want to be with me when I work. That's why I kind of migrated to the living room where I sit on the couch and use a lap desk to use my computer.
But lack of lighting was driving me insane. I could not work at night because even the three lamps we had here did not provide enough light.
We knew we needed to do something about it.
A few months ago we found this light on the local classifieds: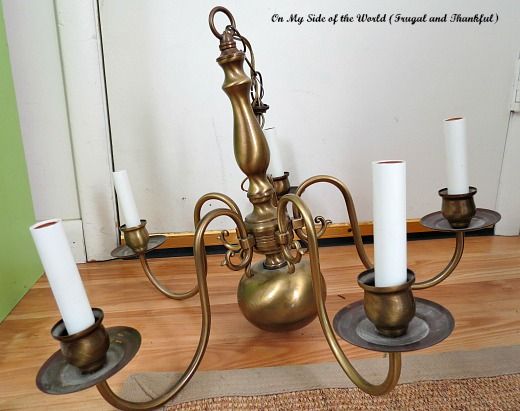 It was old, dusty and scratched but it was exactly what I wanted, especially for the price of $15. I bought it, and it has been sitting in our garage ever since.
But this weekend I decided to tackle it. I cleaned it (and then cleaned some more), then primed and painted. Ta-da:
I just love this baby blue. I used Valspar spray paint (already had on hand). It gives it the perfect pop of color I wanted. Can you see, I'm in love with our new light? :) We had to get all the wiring through the attic. Luckily, we have a friend who is an electrician, and really knows what he's doing:)
And most importantly, it provides much needed light in this room...
Have you tackled any projects that have been waiting to be done for a while?
I shared this post with these awesome parties:
I should be mopping the floor Thrifty Decor Chick Under the Table and Dreaming