Pin It
I know, I was going to post it yesterday but life got in the way, as usual:) But here is a little project we were working on lately. It will be part 1 of our master bedroom reveal:)
When we started working on our bedroom, I knew I wanted to use this corner wall:
It was this big and empty corner (minus the laundry basket). But I had something better in mind. I decided to turn this area into a "command center"/ working area for me. We have an office but it's too far from the Baby when he sleeps, and I can't hear him. Plus the office is in our guest room, so we rarely use it. I have a netbook that I use, and I usually work on the couch or at the kitchen table. But I needed a designated place for doing bills, planning and translating. This corner seemed perfect for it:
First, I painted it with stripes using leftover paint from another project. Of course I forgot to take a picture of the "finished product" :) I'm always to anxious to move on, and always either forget to take a before or an after picture. That's the story of my life!
I had a few things I wanted in this space. First, I wanted to add a memory board. I decided to make it myself. I had an old frame that I almost took to the thrift store but changed my mind:
It was a cheap frame that I got years ago for $3 (I think) from Dollar General. But it's big, it's 17.5 x 21(16 x 20" with the picture inserted), so I knew it would work great for a memory board. I spray-painted it black and set it aside.
One thing about this frame is that it had flimsy plastic instead of glass but it was perfect for my project. I got some cute fabric from my favorite fabric store for $3.99 a yard and used leftover batting:
I covered the inside plastic with a spray adhesive and glued batting to it. I cut batting about an inch smaller than the plastic all the way around, so it would easily fit in the frame. Then using a glue gun I wrapped a pre-measured piece of fabric around it.
Then, still using a glue gun (it's a no-sew project!) I added some ribbons:
Then I just put it in the frame. Here's the finished product:
It's perfect for storing paint chips or cute little pictures that I occasionally find under my pillow :) The basket underneath was a Goodwill $2 find that I painted black. I keep all the billshere that need to be paid soon or coupons for eating out.
As for the other side of my "Command center" it looks like this:
The small red desk is from IKEA. We bought a couple of years ago. The white board calendar is from Walmart (and you can see, I was busy this month:), the little red buckets are for storing white board markers, magnets etc. and they are from a $ area in Target. The little "greenery" on the top is from IKEA too as well as cork board circles (that are actually heat trivets for $2.99/3). The floating shelf on the top is a yard sale find. The rest of the accessories I already had on hand:
And here is another picture of MY corner (and because I just like it so much):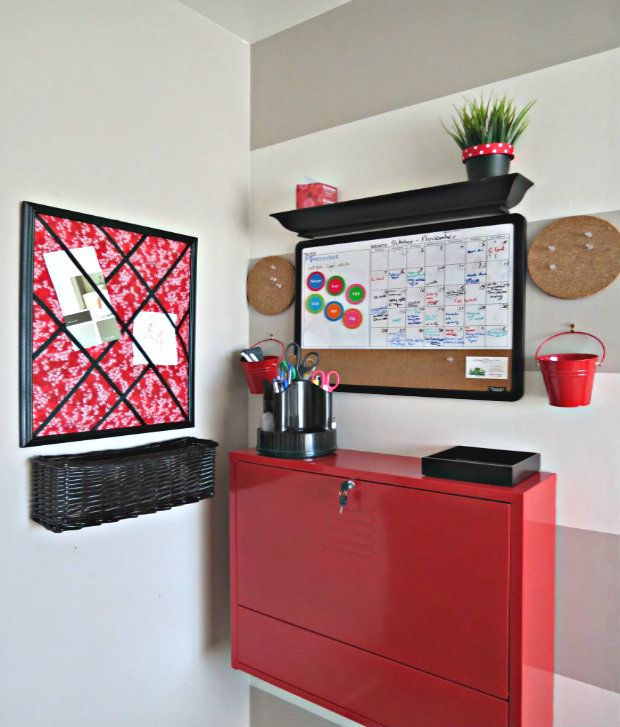 And here's my project for you for today. I love my little space so much and use it e.v.e.r.y s.i.n.g.l.e day!
I share this post with these great parties:
To Sew With Love
And I also entered this project for a contest below. Wish me luck!!