Pin It
In January, when the whole country was suffering from cold temperatures and crazy snowstorms, we had drought and fairly mild weather. We had literally not a snowflake pretty much through the whole month. But winter is back. Definitely. It's been snowing for the past two days, and will keep going on and off all week. So we are kind of stuck at home.
To make things even more boring, I don't have any work assignments right now so it was time to do some household work (no excuses any more!). I wiped the fridge inside and out, organized our linen closet, deep-cleaned the kitchen. But on the back of my mind there was always the "dreaded room"...
Do you have a room or a place in your house where everything ends up? Well, you guys are awesome! I'm embarrassed to admit that I do. It's worse than you might think. Don't believe me? Well, here is the proof:
Hello, my name is Lena, and I'm a hoarder... I am ashamed... There are many-many projects collected on this couch... The saddest thing about it is that it used to be a guest room. And now it's just a dump room for everything and anything. The floors are slightly better but this futon is pretty much covered with junk. It was time to clean it...
But I wanted to do something bigger and better. And here is the reason why: a few weeks ago I had a long conversation with my Mom. Her treatment is going really well right now, and the doctors are pleasantly surprised with her progress. So I'm cautiously hopeful... On the other hand, after all this stress, my Dad started having issues with his heart. It's just so hard to be away from them! So they are thinking of coming to visit us after Mom finishes her treatment. We will probably be helping them partially with the tickets. We just miss them so much and want to be closer...
So in the next two months Hubby and I will be transforming this room top to bottom. Honestly, I always hated it. It's pretty small and dark, with low ceilings. There is not much we can do about the ceiling but we can change many other things to make it more functional for both them and us because, even though this place is small, it still has to serve many purposes.
We decided on a budget of $900. I know it sounds like a lot of money but it's not. Because, first, we need to replace that sad futon. It served us well for the past eight years but it's time for it to go. It's old and, definitely, not a good fit for two not very healthy parents.
Unfortunately, this room is too small to have a decent sized bed in it and still be functional. After looking everywhere we finally found
this sofa
bed from IKEA: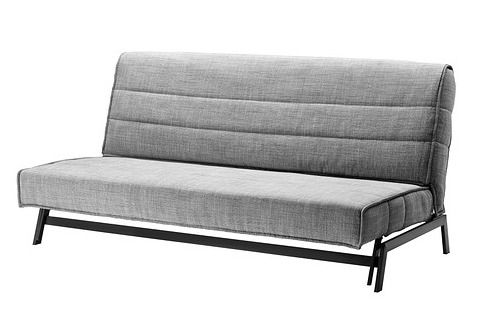 It's fairly big, comfy and pretty. I'm very pleased with our choice. But it will also eat almost half of our planned budget. I told you it wasn't that much :)
There are so many things we want to do with this room. I will tell you more as we will go through the process. And at the moment, I can just promise that it already looks a lot better than it did in the picture above :)