Pin It
First, I want to thank each and every one of you who stopped by here yesterday with your kindest comments about my Mom. I seriously have the best blogo-friends in the world!! We are all excited for her progress and so thankful for it. Thank you, guys, for your sweet wishes and prayers!
This week is all about simplifying in the kitchen! I have so much to do that I just don't have the time to cook.I desperately need to start gardening. Unfortunately, last year I never got to winterize our garden. So it needs a lot more work than I'd like to do... Plus, we got a green house, and it's a bit bigger than the rest of the spot, so we will have to make quite a few changes there. Now keeping fingers crossed that the weather cooperates...
But before the menu, we did have some food waste. There were a couple of things I didn't save. Like this poor potato and zucchini: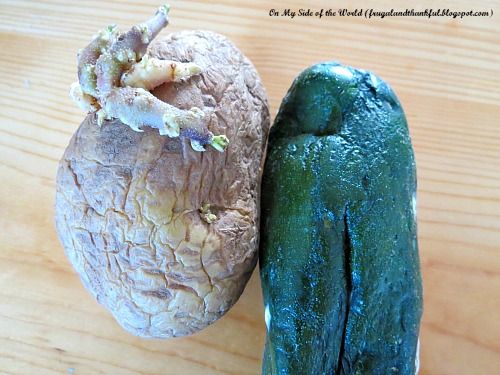 We grilled zucchinis last week but this one, I think, was already going bad when I bought it. I'm not sure how I missed it but, hey, it happens. We also had a bad mango in a bag that I forgot to take a picture of.
And that's what we are eating this week:
Mon.- breakfast for dinner
Tues. - bbq pulled pork sandwiches, salad
Wed.- hot dogs, fries, baked beans, carrots
Thurs.- mashed potatoes, meatballs from the freezer, green beans
Fr.- pasta, steamed broccoli
Sat.- leftovers/TBD
Sun.- Easter dinner with the family
And what's on your menu?