Pin It
I have a confession to make... I have a big pet peeve! It annoys me so much when people don't take their shoes off at the door when they come to your house. I guess, it's my upbringing speaking... But seriously, I can tolerate when it's sunny and dry outside, so you barely bring any dust in (even though I still don't know where your shoes have been!) but when it's raining and muddy... Really?? I do have children here. And I myself like to run around bare foot...
When the kids were younger, I obsessively wiped the floors after the guests would leave just because...well, babies crawl and eat everything off the floor! I still sometimes grab the broom... And with my closer friends I gently hint. But what to do with other kinds of acquaintances?
A few months ago I saw a similar
to this
sign on Pinterest and fell in love with the idea behind it. But since I didn't have $40 to pay for it (incl. shipping), I thought I could make something similar, even if it's less fancy.
I used a board I already had and just stained it with leftover stain. I don't have a fancy vinyl cutting machine of any sort, so I had to turn to simple premade letter stickers: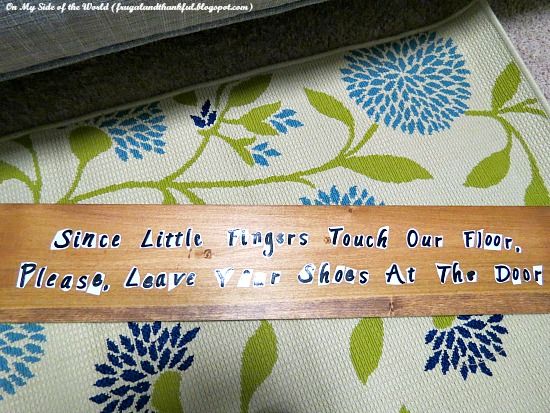 (by the way, check out the new rug we got for the
"dreaded room"
! We kind of slowed down working on it because of all the
beautiful weather
outside and a desperate need to dig my pitiful garden...But I'm just in love with this rug!)
So I just put the stickers on, painted over the whole thing, carefully removed them and slightly distressed the board. I really don't have any step by step pictures because it's just too easy!
But that's what we have hanging in the hall right now :)
I tried to take a better picture but our hall is really so dark:
But here's the finished product.
Now am I too blunt? :) Well, you know me well then :)
Does it bother you when people don't take their shoes off when they come to your house, especially when you barely know them?