Pin It
I've been thinking a lot about how we want to set up the nursery this time around. I've seen so many gorgeous rooms for the little ones that I think one day I will even write a separate post about what I love. But often, when I click on certain pieces (like furniture or decor) in those pictures, I realize that they are way out of my price point.
In fact, the last time I shopped for nursery furniture was more than 5 years ago. Back then we scored a pretty nice set of a crib, a changing table and a dresser on clearance for only $199 for all. Well, when I say nice, I exaggerate a bit. The crib is pretty solid even though it's huge. The dresser and the changing table are made of glorified MDF pieces. Over time, they both been covered with nicks and chips. The top of the dresser was completely destroyed when our humidifier broke. And the actual dresser is small. The changing table on the other hand is big but broken.
The room we are working with is not big. It's about 9x11 but it also includes a closet, so it's more like 9x9 left to work with. Since we need two cribs this time (and our old one is gigantic, so we'll have to sell it to get new ones, more than likely, minis), we decided to minimize the amount of other things we want in this room. Yet, it still needs to be very functional because, well, life is not going to get any easier when we have two bundles of joy in our arms. And I want it to look pretty :)
One of the must-changes on my list is to get a new, bigger dresser and to put a changing pad on top instead of having both a dresser and a hanging table. Since we decided to go white this time around (to make the room seem a little bigger), I've been looking at big white dressers. I've been drooling over something
like this
. But the price tag??? It gave my heart palpitations! Do people really spend more than $500 on dressers nowadays? Or
this one
. Pretty but man...
Not that I was going to buy new anyway... But when I turned to classifieds, it gave me more sticker shock of it's own. For example this nice dresser was listed for $350. It's gorgeous but $350??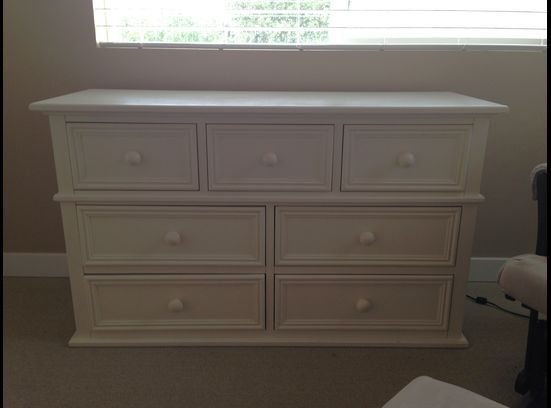 And there are plenty of similar examples. We were even looking at
this IKEA dresser
(even though I'm often hesitant to spend money there because most of their pieces are not made of solid wood. It does look nice though) but it's still a bit more than I want to spend. I found the same one on classifieds with the description of it to be 3 years old, not very stable any more and having some (minor) scratches. The price? $190. Really? For an unstable 3-year old dresser?? What happened to the good old pieces from Grandma's attic that need some love but go for only $50? I think, I'm still living in the wrong generation... Sigh...
We will hit more yard sales and thrift stores in the next few weeks (I did try to avoid painting but my heavy-duty professional mask should do the trick to protect the little ones...). Stay tuned and, maybe, I'll share the deal of a century with you some time soon... In the meantime, I'm thinking, we need to bump our budget a bit for this room because the cribs with mattresses alone will be more than half of my $750 original budget.... But hey, this girl is resourceful, right? :)
So how much money would you spend on a nice, solid dresser that should last your family many years of love?