Pin It
You know what, guys, I just realized that I never did my 12 in 2012 for November.

T

he end of this month will be the last time for me to update this year's goals. I already see a few goals that I'm not going to achieve but that's OK. Life happens. I already started thinking of some goals for next year (13 in 2013??) but it's still work in progress. Did you start thinking of what you want to achieve in the upcoming year?
But before I share with you how I did on my goals in November, I wanted to show you a few pictures.
First, is this:
This is what I got in the mail a

few days ago

!! Dear Cindy always knows how to p

u

t a smile on one's face :) She got me some stickers and googly eyes for fun crafts with my kids and also a fun book about silk painting. This is something I've never tried before but it's definitely on my to-do list! And she added a beautiful Christmas card and a recipe

for

a delicious Grandma's Apple Cinnamon cake that I need to try as soon as I can get my hands on some good apples. Thank you so much, Cindy

for being a true friend!
And second is especially for Erin: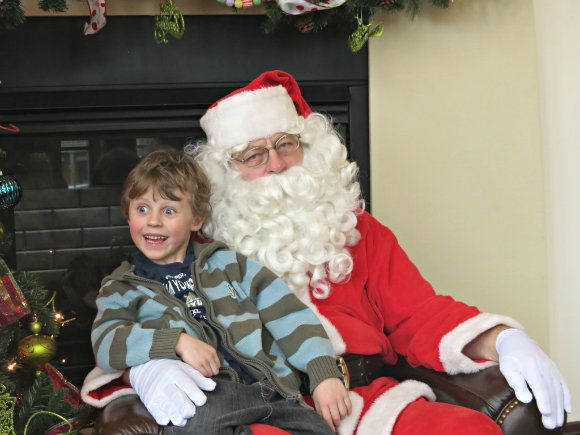 For the past 6 years I've been trying to get a NORMAL picture of my 6-year old with Santa...I don't think it's ever going to happen. We g

o

from hysterical, crying bloody murder pictures to "Who the heck is that?" pictures to "Man, whatever is in that corner is way more exciting than sitting on

the

lap of this ugly dude!" I give up...
O

K, now back to my yearly goals :)
1. Blog at least15 times every month.
PASS! I blogged 19 times in November.

It's actually the fewest times I've blogged the

whole year. I think it has something to do with me being sick for two weeks...
2. Have a "money meeting" at least once a month with my husband. Still doing great with this one.

We had a budget sit-down together 3 out 4 weeks in November.
3. Save enough to pay for Christmas with cash. Yes and no.

Well, our original goal was $550 which we saved back in July. Turned out that this money wasn't enough for all the gifts we needed/wanted. We miscalculated a bit even though I didn't have to mail a package to my parents this time around.

I think next year we will bump this number up to $700.
4. Save as much as we can for a minivan. Done back in summer. If you are new to my blog, read

the

whole story here
5. De-clutter 366 things this year. I'm progressing...

That's all I can say because I didn't count yet. I have two bags of different things that need to go to different places like recycling, thrift stores and donation centers.

I plan a post on "100 challenge" very soon where I will update

the

total.
6. Keep track of our food waste. Going strong. I believe this goal really helped me to be more accountable throughout

the

year.
7. Start putting again some money for retirement. Done!

it took us a while but we finally started

very small but monthly contributions of $60. It's a work in progress for us, for sure.
8. Have 1 date night every month with my husband. Definitely pass!

We had a fun date celebrating our Anniversary (minus a trip to the Museum of Contemporary Art. If you missed it, read

here )
9. Lose 12 lbs in 2012. I think I can officially say that I gave up on this goal :(

There is no way I can lose 10 lbs a month. Or there is a way but I don't want to go down this road...I definitely fell off the wagon this year but I've done a lot of thinking and I know I want to do it in 2013. Stay tuned!
10. Read 12 books this year. Done, done and done!

I've read at least 50 books this year.
11. Write in my journal at least once a week. Nah...

I wrote only three times. I think I should reach this goal at least once this year, right?? I better go and write something in my journal right now :)
12. Create mini-goals every month through out the year. Passed! It wasn't even a very small goal - I wanted to organize my kitchen, specifically, our pantry. And I'm done!! And I love it! In December I want to take it slow. I have a few little things I want to achieve but the biggest goal will be to organize all my coupons. I used to be a pretty avid couponer (not the extreme kind

but

devoted...) but I kind of slowly stopped couponing altogether minus a couple coupons here and there. I want to start doing it a little bit more as grocery prices are going up and salaries are going down, unfortunately...
And this is where I am. It's the first year that I made goals and New years resolutions and stuck with most of them, mostly thanks to blogging. And I love it! I love to see that we'

ve

achieved

a lot

, even if it's not everything I hoped for. But hey, I'm human, and I'm just happy to know that I'm not a complete failure and that I can actually see progress!