Pin It
I rarely say it but today was a pretty good day! First, I woke up to find out that my blog went over 100000 views. I know it's not a lot for many people but it's a very exciting milestone for me. Thank you all, my friends, for your support and that you take time from your very busy schedule to stop by here.
Then I found out that Sarah at
Thrifty Decor Chick
mentioned our frugal
master closet makeover
. Sarah is super-talented and her house is beautiful, so I was honored that she mentioned it. Because of that I also had an all-time record number of page views in one day:
Pageviews yesterday -1,268

I know these are just silly statistics, and don't mean much but I was still pretty stoked about it.
Oh well, I'm done. Sorry about the bragging today! I'm just a little excited here. But back to the regular program now:) Oh, and I also got a $140 Valentine's gift for Hubby for only $25. I might have to wait to tell you more about it (because my husband reads this blog too) but I promise I'll share with you what I got in a couple weeks :)
So it was an overall beautiful day! And did I mention that the temperature outside was in positive double digits, and it's nice and sunny outside. I'm so going to jinx this awesome day...
OK, the only food waste we had today was two lonely tomatoes: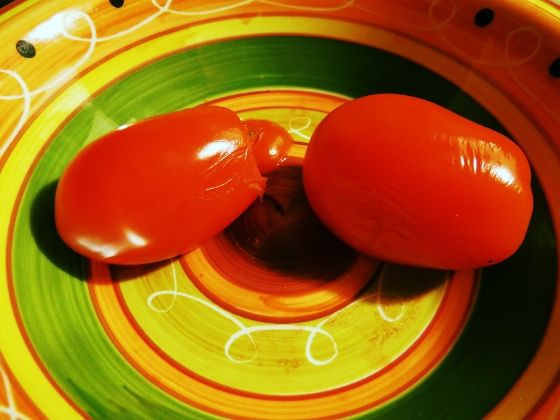 I don't exactly know how it happened but I think, they froze at some point. I got a couple of pounds of tomatoes and they all seemed the same but these two became mushy and gross a couple days later.
I tried to do a two-week shopping trip last Friday. It didn't work that well. I combed through the pantry and the fridge ( and the diaper stock) to see what we might need, and I thought I wrote down everything. But three days later I already started a new list of things we needed, and I actually had to go to the store today to buy dishwasher detergent. All you, ladies, who do bi-weekly and especially once a month shopping - you are amazing! I want to be like you when I grow up:)
Overall, we should have enough basics to last us for two weeks but I will definitely need to buy some produce, milk and, maybe, bread (I hope to have enough time this week to bake it myself). So this week we are eating:
Mon.- taco soup, corn bread
Tues.- sticky chicken drumsticks, mashed potatoes, broccoli
Thurs.- spinach pizza
Fr.- Birthday party with the family
Sat.- leftovers (if there are any) or hot dogs with sweet potato fries
Sun.- vegetable soup with homemade bread/ fettuccine alfredo with salad
What are you eating this week? And do you do anything special for Valentine's Day? Do you celebrate at all, do you go out or stay at home and cook something yummy?