Pin It
I know it's been a while since the last time I posted anything. Actually, I think it's the longest break I've ever taken from blogging.
First, I want to thank you all for your kind comments and get well wishes. I'm so blessed to have all these amazing friends like you. I wish I would have some awesome news about my health but alas :(
Just like I planned, I went to see the doctor on Tuesday. Well, I don't have strep (I guess, that's good news) but I do have a sinus infection. But that's not all. After having a lengthy conversation with the doctor, he has suspicions that I might have low thyroid issues and, possibly, anxiety too. I've been having shortness of breath on top of constant exhaustion and many other symptoms that made him suspect it. Nothing is confirmed yet. I had blood drawn but because they have to send it to a separate lab, I'm yet to know the results. Keeping my fingers crossed that I will get some news by the end of this week.
And because of other possible things, he didn't give me anything for the infection. So I was pretty miserable most of this week. Constant headaches wouldn't even allow me to use the computer, and I missed it (yes, I'm an addict!). I think today is the first day that I feel a little bit better and can actually partially breath through my nose. But the Baby is not doing very good. He was running a fever all night, so we are heading to the doctor later today :(
Because of a sick household, we ate mostly junk all week. And I mean junk like frozen pizza, hot dogs, chinese takeout and McD's. I can't wait to start eating
normal
(read, healthier) food again. Especially, because now I have something new to cook it on: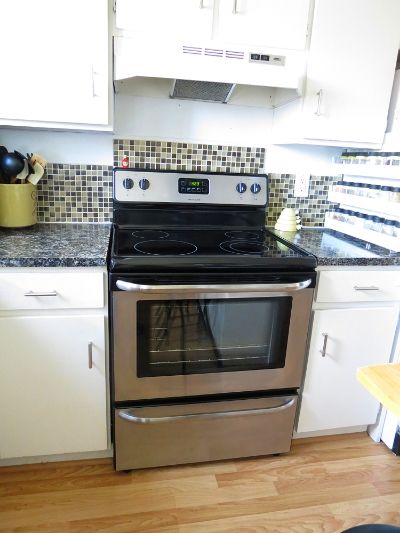 Yes, we got a new (WORKING!!!) stove!!! I wish we could get gas, but we can't do gas in our house :( But it's very nice, and did I mention, it works properly???? I love it!
And of course, we got a good deal on it (I know, you are not surprised :). After looking at many different places ( we actually got it last week, before we all got sick again), we ended up at Best Buy. This stove was originally $649 but last week it was on sale for $489. But when we got to the store, turned out that they were so back-ordered that they couldn't even order us one. So they offered us the floor model with a 10% discount. For a floor model, it was in very good condition. Actually, the only damage it had was a little scratch on the handle.
But we still didn't like only 10% discount, so we negotiated another $40 off which brought the total price down to $399. You just can't beat this price! We still had to buy a new cord (which was another $28) but overall, after taxes and everything, we spent only $457.30.
Plus Best Buy was offering free delivery and haul-away of your old appliance if you make a purchase of $429 and higher. Well, with the new adjusted price, we couldn't get it any more (and delivery alone is $69.99!!). But it kind of erased all the purpose of the discount, so the manager waved it all for us.
So all in all, we got, well, at least
$250
discount. Not bad! Not bad at all. And I love my new stove. It's not fancy but it works great and gets the job done!
At first, we wanted to use most of tax return for savings but after some discussion, we realized that there are a few things we need. I mentioned before that we'll use part of it to pay for any old and new medical bills. Then we really need to buy a new mattress for the Baby's big boy bed. Also we need a new door for the back of our garage because ours is all rotten and nasty. I don't know how much we'll have left from our tax return after all these purchases but if there is anything left by the end of April, we'll move it to savings.
So here's what's happening on our side of the world. How was your week??? I missed you all!!