Pin It
Mondays are sure pretty busy here at the Frugal Chez but especially the first Mondays of the month. I usually wash all of the bedding and pads etc...on this day, and I'm
exhausted
... How often do you wash your bedding?! I do it once a month( at least twice a month- if not every week- in summer) because if I do it more often I will go insane! Can't wait until the kids are old enough to do their own laundry...
And I'm also so done with the cardboard house in the middle of my living room!! Because the kids bring all their stuff so they can "live" in the house (toys, pillows, games), the living room looks like a giant and very messy play room. Tonight, after the kids are in bed, we will try to fit it in the office and if it's not going to work, it goes to the garage!
OK, done venting :) It was otherwise a pretty good day. First, I got a small paycheck from my side gig. We still need to talk about what we'll do with it. More than likely it will go towards some medical bills. Then I went through our fridge, and we didn't have any food waste this week :) I have a couple of things that need to be used up in the next couple of days but otherwise we are doing pretty good. I do need to go shopping very soon because we are completely out of flour, rice and chicken, and we are pretty low on fruit.
And on our menu this week: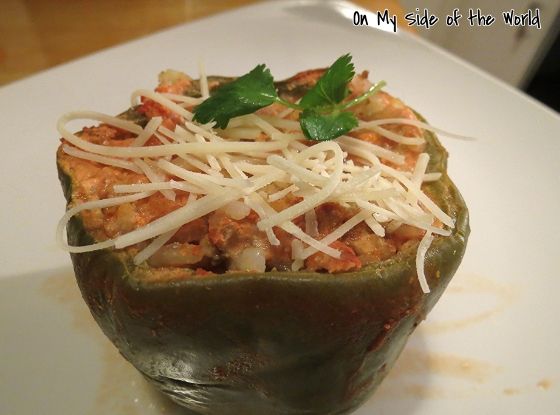 Mon.- turkey stuffed peppers (see above. Next time I'll take some step by step pictures and post a recipe. It's one of my husband's favorites!)
Tues.- cheese pizza, salad
Wed.- chicken curry, naan
Thurs.- broccoli cheese soup (never made it last week)
Fr.- sandwiches (big tax day- finally getting our taxes done! Plus,have to be in two more places, so no major cooking for me!)
Sat.- something with salmon (haven't decided yet)
Sun- baked pork loin, mashed potatoes, corn/ and Russian crepes for dinner
What is on your menu this week? Any new recipes you tried recently and absolutely loved? Please, share a link in comments :)
I apologize that this post is a little choppy. I think I need to get to bed, I'm just too exhausted...
Good night, everyone!! :)