Pin It
You can read part 1 here in case you missed it.
There are many ways to prevent food waste. With prices of food that seem to constantly go up, there are many ways to stretch and preserve what you already have in your fridge. Today I wanted to concentrate on certain food items. I hope you'll find some of these tips useful:
Celery.
You know how it happens when you buy a thing of celery, use one or two pieces and then the rest goes to waste? Has that ever happened to you? One of the best things to do is definitely to plan how to use it up:) But if not an option, you can wash and dry it really well with a paper towel, then wrap tightly in aluminum foil and put it in your crisper drawer. It will stay fresh for weeks. You can also freeze some of it. It will lose it's crispness but can still be used for making stock, and in soups and stews. Celery leaves can also be used in the same things plus you can chop them into meatloaf or add to potato salad for extra flavor.
Green onions.
My favorite way to preserve them is freezing. I usually chop all the leftovers and freeze them in a bottle (saw this idea on
Pinterest
). They need to be used within a month. I like to add it to omelets and soups. When the weather is warm, I also save the white part (which usually can be used just like any white or yellow onion), put it in a little bit of water and let it grow some roots. Then I move it to our garden (or even container garden ) to enjoy free fresh onions all summer long.
White onions.
My favorite way to store onions is this thing:
I bought this container on clearance at my local grocery store for 99c, and let me tell you - it's magic! I was skeptical at first but it really does keep onions fresh for weeks. Also, because I hate chopping onions (who doesn't??), I usually try to do it all at once and then freeze in a ziploc bag and use in my recipes as needed. Onion is a great way to boost your immune system and add flavor to many meals, so there is no reason to avoid it just because some might hate chopping it.
Green salad.
Nobody likes wilted and brown salad. Unfortunately, green salads tend to go bad pretty quickly. But there is a solution - first, be sure that your salad is dry. Then wrap it in paper towels, put into gallon-size ziploc bags and squeeze as much air as you can out before you close it. This way it will stay fresh for up to two weeks. On another note, you can do the same trick with green onions by growing it in a cup on your windowsill. I have one of the salads sitting on my window right now :) This trick doesn't work with packaged salad (and that's why I rarely buy it). Packaged salads usually need to be consumed with in a day or two after opening but you can give it a few extra hours of life by trying to get the air out of the packet.
Tomato.
There are many great ways to prolong the life of that sad tomato. You can stew it and then add to tomato sauce or make homemade pizza sauce with it. Just chop it, add spices, dried onion, garlic, pinch of sugar and salt, and cook on low heat until mushy. Then put it through a food processor for smoother texture. If you have more than one tomato that needs to be used up, you can make a batch of sauce and freeze in smaller servings until ready to use. It can also be cut up and added to a soup. Another option is to make
oven-dried tomatoes
(or use a dehydrator if you are lucky enough to have one).
Zucchini.
I don't think I've ever thrown away zucchinis. We just love them so much (just yesterday we grilled some using
this recipe
. YUMMM!). But if you happen to have extras, grate and freeze them to have zucchini bread year around. You can also make some zucchini chips - just slice them as thin as you can, sprinkle with sea salt and bake at 350F until crisp and golden brown. It's a great healthy snack for kids too. You can also make quick pickles with zucchini ( as soon as they'll get a little less expensive or I have some in our garden, I'll share with you my Mom's ten minute sweet quick pickle recipe using zucchinis).
Bananas.
I'm not going to talk much about them. You all know that you can freeze bananas for breads, muffins or smoothies. But just yesterday I discovered
this recipe
to use up ripe bananas. I can't wait to try it and I thought I would share a link. It's healthy too!
Broccoli.
First, when you buy broccoli, be sure to choose the freshest green heads with tight florets. They can be stored in a plastic bag in the fridge for up to 5 days. But if you cannot use them within 5 days, separate them in florets, blanch for 2-3 minutes, then cool and freeze. But don't throw away broccoli steams! Peel them, slice and then use in stir-fries or to make delicious broccoli-cheese soup.
Strawberries.
A lot of the time we think of strawberries as something you eat fresh or use for a jam. But they are so much more versatile than that. You can add them to smoothies, homemade ice-creams chop and add to muffins or bread while baking. You can use them in salads (like my
spinach salad here
). Last year I also discovered this
fun recipe
to use up scraps. We tried it, and it turned out pretty good.
Bread.
Most of the breads can be frozen in air-tight packages. You can also use stale bread to make breadcrumbs or simple croutons - just cut bread in chunks, coat lightly in melted butter or olive oil, sprinkle with your favorite spices and cook in the oven 300 degrees until dry . Then add them to your favorite soup or salad recipes or use for homemade stuffing.
Dairy.
Most dairy products can be frozen. Milk can be frozen right in the jug, cheese will need to be grated, yogurts actually make delicious and healthy yogurt melts for kids if you drop some on freezer or parchment paper and flash-freeze. My kids love it! And don't throw away dried-up cheese. As long as it's not moldy, it can still be melted in grilled cheese sandwiches or to make homemade mac-and-cheese. You can also freeze eggs in ice cube trays and use them in your recipes as needed.
Potatoes.
Don't keep your potatoes in the plastic bag they came in. Instead line up a basket with old newspapers for them and add an apple to your taters to make them last longer. And if you have extra mashed potatoes left, turn them into delicious patties: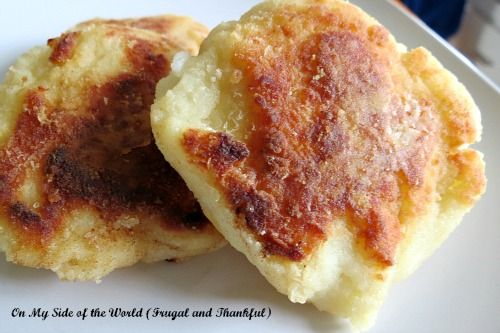 Per each pound of potatoes you will need 1 egg, 2 TB flour, a pinch of salt/pepper. Mix really well, roll in another tablespoon of flour and fry in 1-2 TB vegetable oil on medium heat. Easy and delicious! Kids love it!
Rice.
Rice is another versatile thing that can be used in so many things if you have leftovers and are too tired of eating it plain. You can make fried rice, jambalaya, rice pudding or add it to soups or stews. It also freezes well. And if you come tomorrow, I will share one of my favorite stuffed peppers recipes that you can use up leftover rice for!
So these are just a few ideas on how to stretch some commonly used food items and avoid food waste. What are your favorite tips? Come and share :)
I shared this post with these great parties:
Blissful and Domestic
I should be mopping the floor
Marvelous Mondays
Not just a Housewife
Ginger Snap Crafts