Pin It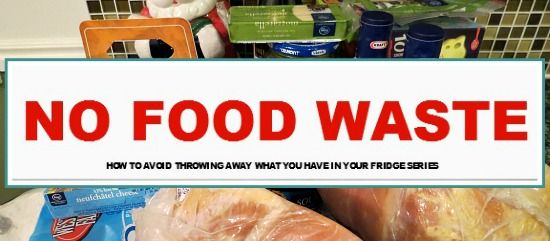 You know I talk about food waste a lot. A LOT! I decided to create this mini two-part series to share my tricks and tips on how to avoid food waste or stretch and utilize what you already have. As usual, I'm no expert, so I'm always open and glad to receive your ideas and suggestions :) But these are the things that work for us:
1. Organize your fridge, pantry and freezer often
. Ideally, once a week. I usually go through my refrigerator, both freezers and cupboards every Monday before I plan and create our shopping list and weekly menu. I keep track of everything I have in the freezer and try to keep it all in order. I shared
here
how we organized our pantry. I love it because everything is visible, and it allows me to know what I already have, what needs to be used up and I plan around it. But you don't have to have fancy pantries to keep your groceries organized as long as you know what you have.
2. Buy what you eat (and in the amounts you use and the kids would eat)
. It's OK to explore new tastes and flavors but if you absolutely can't stand tofu, there is no point in buying two boxes of it even if it's an unbelievable sale. More than likely it will end up in the trash (happened to me before, and not once. I guess, it's one of those" do what I say, not what I do" moments :).
via
Same applies to new things. If you've never tried some exotic fruit before, there is no point of buying a whole pound (but if you've never had rambutan above, it's DELICIOUS). Stick to the one-at-a-time rule. You can almost always go back and get some more. Especially if you try to introduce new things to the kids. Start slow :)
3. Check the dates before you buy, and organize by date.
It might seem like a no-brainer but quite a few things get thrown away because we simply don't realize the expiration dates. Granted, many products can be used past those dates but we need to be careful about it, especially with meats and dairy, unless they are properly preserved.
4. Make a list when you shop.
After you went through your fridge and cupboards and checked the dates noting what needs to be used up soon, now it's time to create a shopping list. Shopping lists will allow you to plan according to your family needs. It will also help you to stay within a set budget. I create my list on Monday because I like to work around store sales ads that we receive at the beginning of the week. If you go to the store without a list, more than likely you will buy a lot of random things that you don't really need or won't use before they expire.
5. Plan ahead.
Create some sort of a meal plan that works for your family. Some people swear by monthly menu plans. For us, a weekly one works a lot better (you can check out what we are eating this week
here
). But honestly, it doesn't even have to be a detailed or complicated plan. Instead, plan around your schedule and your needs. The menu plan can include all three meals and snacks, or just one main meal of the day. We usually just plan dinners. For breakfast we have oatmeal, cold cereal, pancakes, peanut butter-jelly sandwiches or eggs. For lunches work on leftovers or make something simple like vegetable soup, scrambled eggs or sandwiches. Because I'm a stay-at-home Mom, it's easier for me to make lunches from scratch. But whether you work full-time or not, there are lots of simple recipes out there that you can try. Especially if you are friends with a crock-pot :) Seriously, people, a crock-pot is a girl's best friend if you just give it a chance :)
So having some sort of a plan really allows you to know what works best for your family and helps you to use up what you already have (instead of hitting the drive-through)
6. Have a leftover night.
It's a great way to clean up your fridge, especially before your shopping trip. One of the reasons why once-a-month shopping didn't work for me is because our fridge was just overflowing with leftovers or things that needed to be used up, and I couldn't really see what was hiding in the back. And that brings me to my next point:
7. Freeze/dry/can.
If you buy too much or, lets say, your neighbor gives you ten pounds of zucchini from their overflowing garden, there are so many ways to preserve the abundance. There are a lot of things that can be frozen (I will talk more about preservation in the next part of the series), and extra fruit and vegetables can be easily preserved in so many ways. This year for Mother's Day Hubby got me another very practical gift that I really wanted too (no worries, he also got me a very pretty and romantic bouquet of roses):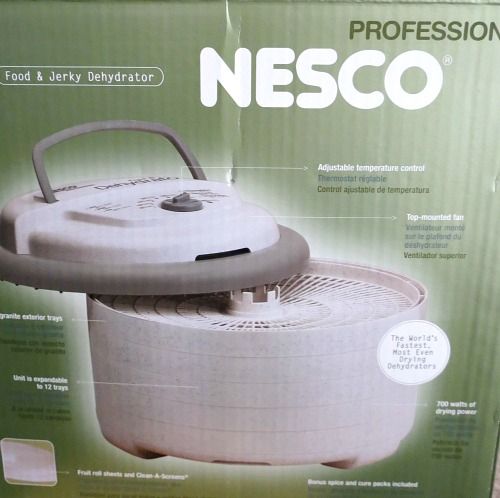 I can't wait to play with it and start saving all those bits and pieces of veggies, fruit and herbs here. And make some homemade fruit leather. Mmmmm...
So are you struggling with food waste? What are your ways to avoid throwing away food, and essentially, money? What worked for you? What didn't?
Come back next Tuesday when I'll share 20 ways on how to stretch some of the products that you already have in your fridge
.
I shared this post with these awesome parties:
The Real Housewives of Riverton
The M

andatory Mooch
The Sunday Showcase Party
Homemaker on a Dime
Blissful and Domestic
I should be mopping the floor
Marvelous Mondays
Not Just a Housewife
Ginger Snap Crafts