Pin It
How was your weekend?? I hope you all had a great time with your loved ones or friends. We had a crazy Saturday with a Birthday party, library reading program kick-off and two secret shopping assignments. I haven't done any secret shopping for a while, but now I do all kinds of random jobs to bring a little extra money in.
This week we had a little bit of food waste. I got some clearance organic basil a week or so ago but it got lost in the very back of the fridge: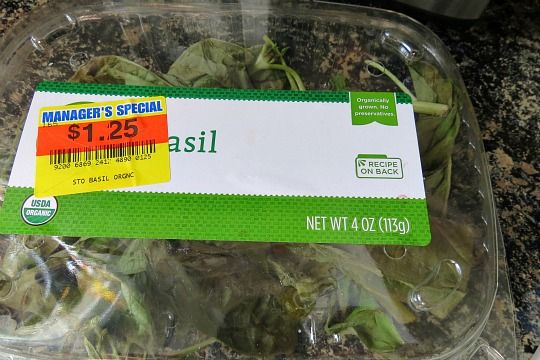 I planned to use it but plans changed, and I totally forgot about it. It's actually a pretty big box, so I managed to save enough to make about half a cup of simple pesto with walnuts. We ate it with spaghetti, and then I used it to make BLT sandwiches with homemade bread (I used
this recipe
following modifications in comments) and creamy pesto spread:
We ate outside on Sunday, and it was SO good!!
And on our menu this week we'll have mostly things that we already have ingredients for. I will still need to buy some potatoes but we are trying to use up some things before they go bad:
Mon.- hot dogs, homemade fries, corn on the cob and carrots
Tues.- vegetable soup
Wed.- beef medallions, mashed potatoes, green salad
Thurs.- salmon (possibly on the grill because it will be in upper 80s), brown rice, mixed veggies
Fr.- plov, whatever veggies need to be used up
Sat.- pizza, salad/ leftovers
Sun- shepherd's pie, green peas.
We will also drink smoothies (with kale from our garden).
And what are you eating this week? How's the weather on your side of the world?
Come back later today for the first day of my "Twenty ways in 20 days" challenge:)
I shared this post with the readers of the Frugal Girl's blog :)