Pin It
Hello, my friends! How was your Monday?? We've been very-very hot here (and not in a good, sexy kind of way...). We set a new record getting to 101 F before the middle of June. And our swamp cooler has been broken :( My sweet Hubby spent the whole week on the roof trying to fix it while we were all slowly melting on the couches. None of the bazillion fans that we have in the house did much. We are seriously considering investing in a ceiling fan for the living room right now...
How's the weather on your side of the world?
As for food waste, I'm happy to report that I have nothing to report :) So instead, I thought I would show you my salad that is growing on our window sill right now ( I mentioned it the first time in my
food waste post here
):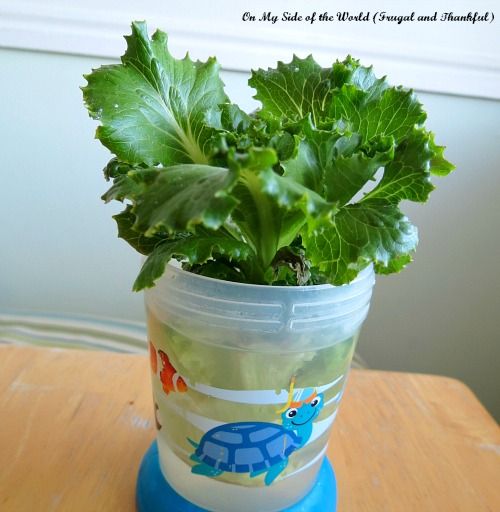 I started growing it from a small salad stump, and it's two weeks worth here. Isn't it awesome?? I thought the stump would give some roots (like onions do) but it didn't. But it keeps growing and growing daily. And I'm like a little kid with a science project, watching it every day :) It does entertain my kids too :)
And this week we are eating:
Mon.- tikka masala, rice, naan, salad (yes, call me crazy to cook Indian food in this heat... But I promised my sweet Hubby after all the hard work he's done in the past few days ;)
Tues.- leftovers (I'm NOT cooking!)
Wed.- pesto pasta, steamed broccoli, salad
Thurs.- grilled sausage and zucchini, chips
Fr.- chicken Caesar salad
Sat.- pizza, leftovers/ shepherd's pie (bumped from last week...maybe)
Sun.- Father's Day dinner with in-laws
What are you eating this week?
And last but not least, I'm back with another five days of my
"Twenty ways in 20 days"
challenge. Today is day 6, and one thing that makes me very happy and excited right now is that I finally (FINALLY!!) have an "About me" page!! If you glance at the top, it's right next to the "Home" page:) It took me a while to write one, so I'm happy to be done!!
And how was your day? Anything good and exciting happening?