Pin It
Have you ever baked anything so naughty that you just can't stop eating it?! That's exactly what I made the other day...
Oh, don't show me the scales...
Burn them...Steal them and run...
Toss them somewhere far, far away...
Because it's not even Valentine's Day yet, and I already gained like 5 pounds in the last 5 days...
I scored two 1lb. boxes of strawberries for only $1.50 at a local store the other day. We ate one but I wanted to use the second one to make something special. And yes, I couldn't wait the whole week until Valentine's Day, so I just made it last weekend :) Say hello to
strawberry cake with ricotta and cream cheese frosting.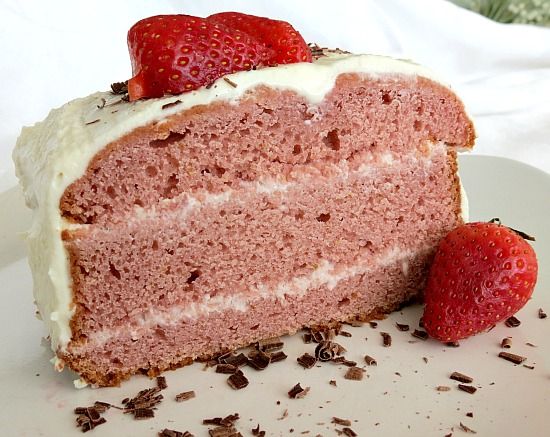 Ingredients:
For the dough
:
2 3/4 cup flour+5 TB cornstarch (or use cake flour instead)
1 3/4 stick butter, softened
1.5 cups sugar
4 large eggs
1 tsp. vanilla
5 oz. container greek yogurt (strawberry or vanilla)
1 1/2 cup strawberry puree (see below)
1 tsp baking powder
1/2 tsp. baking soda
1/4 tsp. salt
1/3 cup milk
2 TB flavored jello (I used cherry. it's totally optional, more for the color)
For the frosting:
8oz. low-fat cream cheese, softened
5 TB butter, softened
2 cups powdered sugar
3 TB ricotta cheese
1 tsp. vanilla
1/3 cup strawberry puree
1 tsp. lemon juice
Directions:
Preheat oven to 350F. Grease your form(s) with butter and line them with parchment paper (I could, probably have just flour them but I didn't wanna risk it).
Hull strawberries and puree in a food processor. I used the whole box (16 oz.) to get the amount of puree I needed. Separate the eggs.
In a big bowl beat together egg yolks with sugar for a minute at medium speed, then add butter, vanilla, yogurt, jello, milk and 11/2 cup strawberry puree, one at a time, and continue beating until well combined.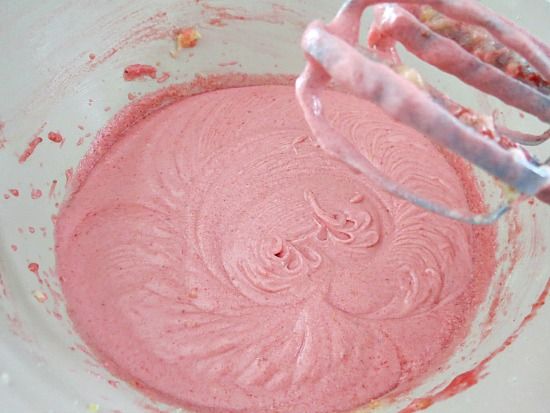 In a separate bowl sift flour, cornstarch, baking powder, salt and soda. Gradually add to wet ingredients mixing constantly.
Whip egg whites until white and stiff and gently fold into the strawberry mixture.
Pour into prepared forms and smooth the tops. I used bread forms because I wanted to make two smaller cakes but two basic round forms would work perfectly too.
Bake for 30-40 minutes or until a toothpick inserted in the center comes out clean.
It takes longer in bread forms.
Let cool in pans for 10 minutes. Remove and cool completely on wire racks, for at least an hour.
In the meantime, beat together all the ingredients but strawberry and lemon juice for the frosting. Separate 1/3 of the mixture. Add 2/3 tsp. of lemon juice and strawberry puree to it and mix well. Add the rest of the lemon juice to the white frosting.
Once the cake has cooled, frost the middle with the pink mixture, and the top and the sides with white. Cool in the fridge for at least three hours, even better overnight.
Garnish with fresh strawberries and chocolate.
Note.
This amount of frosting was barely enough for my two cakes but should be perfect for a round two-layer kind.
I'm sharing this recipe with these awesome parties:
I should be mopping the floor
Marvelous Mondays
Uncommon designs By Stephanie Lynn
Love Bakes Good Cakes