Pin It
It's been a busy and crazy couple of days painting and working hard to transform a dump room into something more comfortable and pretty. I'll tell you more about the progress we made after I take a few pictures. But today I thought I would share a recipe of a stir-fry that I promised you some time ago. I call it "Thai-inspired" but, really, it's just a simple but delicious stir-fry with ingredients that most of you already have in your kitchen:)
So
you will need
:
an assortment of veggies (broccoli, carrots, zucchinis, different bell peppers, mushrooms, green beans or peas etc.)
2 tsp. crunchy peanut butter
3 TB soy sauce
1 tsp honey
1 clove of garlic, minced
1/4 onion chopped
a dash of red pepper flakes (to taste)
1 TB cornstarch
oil for cooking
4 TB water
How-to:
1. Cut your vegetables (carrots, peppers and zucchinis into strips, broccoli separate into smaller florets etc.). Chop onion.
2. Heat oil in a large skillet over medium heat. Stir in the garlic and onion; cook while stirring until the onion has softened and turned translucent, about 5 minutes. Add other veggies and cook until tender, for about 6-8 minutes.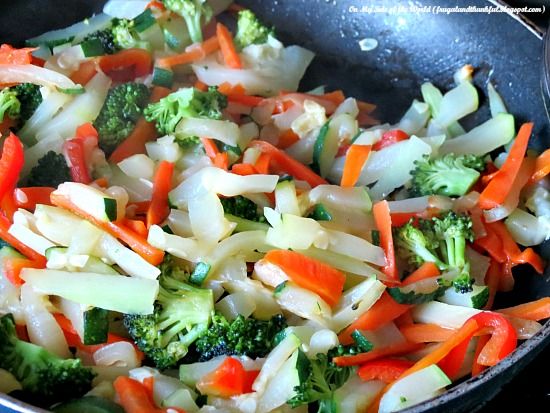 3. While veggies are cooking, whisk together water and cornstarch, then add soy sauce, honey, pepper flakes and peanut butter. Add to vegetables in the skillet and cook for another 5 minutes or so, or until the sauce thickens. That's it!
This recipe is very forgiving. You can adjust the ingredients to your taste but we love it the way it is. I also made it with smooth peanut butter and it tastes just as good, just a little less texture. Yum! Now I want to go and make some again :) You can also add some cooked chicken and serve with jasmine rice for a full meal.
I shared this recipe with these awesome parties:
Uncommon Designs
I should be mopping the floor
By Stephanie Lynn
Ginger Snap Crafts