Pin It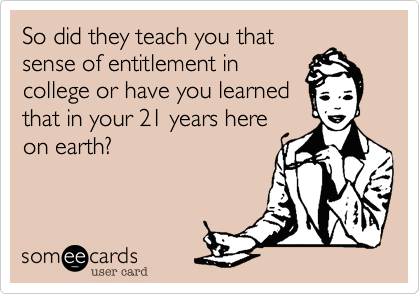 Some of the representatives of the current generation have an amazing sense of entitlement. You hear the stories about kids suing parents for not providing them with the "lifestyle" they deserve, the offspring who feel that their family should give them all of the "necessities" of the time like cars, fancy clothes and toys of all sorts. And everybody and anybody owes them to please them and let them have what they want.
The other day I stumbled upon an interesting discussion on a community group of a famous parenthood website. I wanted to post the link here but the people in charge promptly removed that quite heated conversation. Here's why.
The girl who started the topic was asking about GoFundMe. Have you heard of them before? It's a website that gives you an opportunity to set up an account to raise money for personal reasons allowing your family, friends and sometimes total strangers to donate to your cause. I think the idea is actually brilliant. It's a great way to donate to people who are struggling or going through painful life changes like sickness or death.
This girl wanted something different. She's a few weeks pregnant with her second child and she wanted to raise money to have her "dream delivery" - naturally in a birthing center. Not a bad goal, right? Well, she continued to explained that it's OK if she doesn't get it but then she would be forced to go to the hospital because its covered by Medicaid. Huh??? That's not all. Somebody responded to her saying that it's a bit tacky to ask for money for our dreams and that instead she needs to create a budget and save the money herself (we are talking about $3600).
Her response blew my mind! She said that it would be much easier if they hadn't just spend $3000 on new furniture (seriously, when was the last time you spent 3 grand on new couches???), and if she tried to cut back right now she would have to cancel a maternity photo-shoot, new baby photo-shoot, and a Christmas family photo-shoot. Oh, and Christmas for her first child (who will be two by then, mind you).
You've got to be kidding me!!! I don't know what bugged me more - the fact that she wants somebody else to pay for her "needs" so she can afford indulgences, or that she's on Medicaid. Really?? She wasn't joking either.
Do I think that all of this generation have this entitlement mindset? Of course not. I myself could probably be on the border of the millennials (even though, in my case we are talking about some cultural differences too). But, honestly, it's hard to imagine people feeling so entitled at the beginning of the last century. At least, where I'm from.
I had an interesting experience last year when we were going through unemployment. Among other ideas that we got from the unemployment center was to use Food Bank resources for our needs. Even though we weren't starving, we didn't know what the future held, especially after a few months of constant search and millions of applications. So I decided to try it out. I went to the location of a mobile Food Bank in a nicer part of the city. I was ashamed to be there at first until I realized how many people in that quite extensive line had their hair or nails done, or played with their iPhones. I thought that maybe I should've done it long before. A young couple behind me was discussing how they would spend their next paycheck to buy a new tablet. I almost felt like I didn't belong for a totally different reason...
The next time I decided to go to a location that was in a poorer part of the city because we were in the neighborhood that day. And that's when my eyes were opened... I saw people who were truly struggling. This experience really humbled me. I realized that despite unemployment we weren't in need. In fact, we had plenty for our needs and to share with others. That night I actually went home and collected a bag for the food bank.
I'm not saying that to boast or show off. Not even close! I have my fair share of entitlement and narcissism flowing in my bloodstream. But over time I've learned that when we share with others, we come to the realization that we ourselves have a lot to give and are so blessed...
Do you feel that this generation is a generation of entitlement, or are those just rare individuals, in your opinion? And what are your best ideas on how to help our children to grow up being more caring and less demanding?