Pin It
In the post about my
search
for my blogging self, some of you mentioned that you enjoy the recipes from my country, so here is another one for you:)
As I was organizing our fridge on Monday, I discovered a head of cabbage that needed to be used, and a childhood recipe immediately came to my mind.
Growing up, my Mom
always
shopped in season. And in winter beets, turnips, carrots, potatoes and cabbage were usually what we ate. I've already mentioned
before
why I think cabbage is a great addition to any menu, and this recipe is a hands down classic. My Mom made it at least once a week in winter months when I was little. I really had a hard time thinking how to translate the name though. The closest I could come up with is "Stewed cabbage". It does taste better than it sounds, I promise.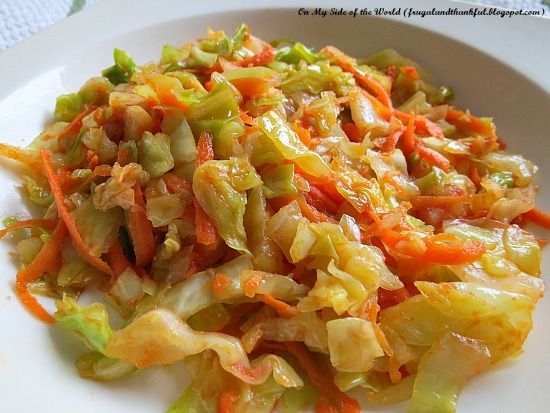 So you will need:
Half a head of medium cabbage
1 big carrot
1/2-1 tsp salt (to taste)
2 TB cooking oil
2 TB tomato sauce
1/2 tsp. sugar (optional)
half an onion, chopped (optional)
A pinch of black pepper (optional)
How-to:
I have a disclaimer to make: the original recipe is usually made with onion. But my hubby is not a great fan of onions, so I skipped it for this recipe. But if you want to add, just saute it in oil on medium heat for 5 minutes before you add other veggies.
So, start by slicing cabbage, then sprinkle it with salt and kind of squish it with your hands a few times to soften and make it juicier. Then grate a carrot:
Reheat cooking oil on medium-low heat and add vegetables. Sprinkle with pepper if desired:
I want to take a moment here and talk about cooking oils. For the longest time I was a great fan of using olive oil for frying (after all, you constantly see all those famous chefs on TV pouring like half a bottle into their dishes). But I've been reading more and more articles recently about many oils becoming cancerogane when heated. I don't have a direct link right now but if you Google it, there are quite a few posts out there devoted to that. I recently switched to safflower oil for all of my frying (which I don't do very often). It's about twice as expensive as basic vegetable oil but, I think, it's worth it:
It's tasteless and you can buy it at any major store (I got it from Walmart). Again, because I don't fry food much, this bottle lasted me for more than three months, and I still have some left. The other good options are peanut or grapeseed oils. There is a debate about using coconut oil because it's also high-heat resistant but it has a very distinct taste. I'm still using olive or canola to add to dishes, just not for frying.
But going back to our cabbage :)
Now, that you added it to the frying pan, cook on medium-low stirring often until soft but not burned. Don't be tempted to use higher heat because your cabbage will burn.
When it's all done, add tomato sauce, cook for another 30 seconds stirring constantly, then remove from heat and let sit covered for 5 minutes or so, to let it blend. I also like to sprinkle it with just a tad of sugar but it's not a necessary step. It just tastes better :)
This cabbage makes a great and healthy side dish. On our most lean months, my Mom would serve it with just a baked potato but you can also cook some meat and add to it for a full-size meal. I might or might not have eaten half of this frying pan by myself... Yum!
Приятного аппетита! :)