Pin It
It's crazy to think that there are only a few days left in this month. Before we know it, the stores will be flooded with back to school sales and deals. But not all of those deals are worth the attention...
A few weeks ago I had a conversation with a very sweet friend of mine who is also a mother of six. She complained that she spends a small fortune on clothes before the next school year begins and asked me if I knew of any ways to cut back on spending during this not so cheap season. Honestly, I always feel flattered when somebody asks for advice since I'm no financial guru, but because I have two boys who burn through clothes like there is no tomorrow, I had a few ideas up my sleeve.
1. Shop thrift stores.
There are some really awesome deals hidden on the racks of thrift stores if you don't mind slightly used options. Since kids grow like weeds, I find thrift stores a great way to score but spend very little. Many thrift stores also have sales, like 50% off a certain tag color, holiday sales etc. Don't overlook small local stores too. The bigger chain thrift stores might have higher prices because they have more expenses to cover (like rent) and bigger goals. I found some really great deals in the small church stores in my area. Check out what I got for no more than $2 a piece for my 7-year old: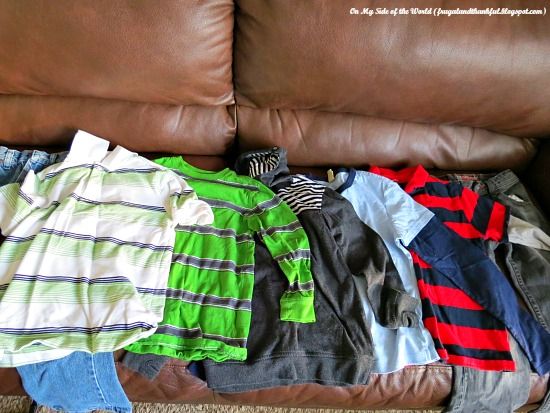 Yes, even jeans. On that topic, jeans for boys are almost impossible to find in thrift stores. Most of them are in terrible condition. Keep that in mind when you create your shopping list. Another thing I wouldn't buy in thrift stores are shoes. There are few things out there nastier than stinky, sweaty boy's shoes. I did score a few awesome deals for myself before though, with tags still attached. I'm very picky when it comes to shoes but they do exist. Like one of my all-time favorite pairs - rocking pink, brand-new Naturalizer loaves ($70 originally, paid $5). Got them more than a year ago and still love everything about them. So comfy:
2. Yard sales
Yard sales are another great way to score nice pieces for pennies. Before you start shopping, be sure to have a list of what you need and don't get caught up on too many deals. Be sure to check every garment for holes and stains. The pieces that are on hangers are usually a little better quality than the ones you have to dig for in boxes, so be picky. Another thing that's important to remember is that because you can't really try clothes on, be sure to have a measuring tape with you when you shop.
3. Clearance racks, sales and store coupons
If shopping for used stuff isn't exactly your thing, you can still score some awesome deals on brand-new pieces in the store. Many major stores have clearance racks, especially with last season's items for a fracture of the original price. Before you shop, be sure to check the store website for coupons. Places like Kmart, Target, Kohls, JC Penney and Old Navy occasionally offer some great coupons that you can often use on top of their sales or clearance prices. And if you join their mailing lists, you might get some exclusive coupons delivered straight to your inbox.
4. Stick to basics.
It's easy to get caught up on looking for a deal but be sure to shop for things that would mix and match with each other. Shop for colors that would work with your child's (or your own) wardrobe. And even though the kids don't wear as many accessories, simple things like colorful leggins can quickly transform the look of a boring shirt.
5. Shop quality but take chances too.
Just because a garment comes from a fancy store, doesn't necessarily mean it's going to last. Last year I decided to conduct an experiment and bought my older one jeans from a well-known store (read, expensive) and another pair from Walmart. I wanted to see how long either of them would last. To my amazement, even though the first pair was almost three times more expensive, they survived the same amount of time as the cheaper choice (about two months). When you shop, don't look for brands, unless it's a big deal for you, look for true quality. Honestly, one of the easiest ways is to check how well the buttons are attached. If they are barely hanging, you can expect that the rest of seams wouldn't be much different. That is especially important to remember when you shop for kids shoes.
But that actually leads me to the another part of it - taking chances. Last year I bought a pair of really nice running shoes for my son for school in August. Well, who would've thought that before October rolled in, he would outgrow them! This was a very wrong time to add a shoe expense to our budget but I was lucky to stumble upon a great sale on kids' shoes in Walmart. There were a few pairs of running shoes on clearance for just $5. They looked pretty nice and I thought that if they survived at least until Christmas, I'd be happy. Well who would've thought that they would last my child through the whole year! And let me tell you, he's not gentle on shoes! He climbs walls like a Spiderman and hangs on trees like a monkey so it was a really pleasant surprise and a deal worth every penny of those $5.
These are just a few ideas that we discussed but, I hope, they gave her a good start on back to school clothes shopping.
What are your secrets when you shop for clothes?
And before I go, I wanted to share with you today's outfit since it's a good example of many points I made in this post: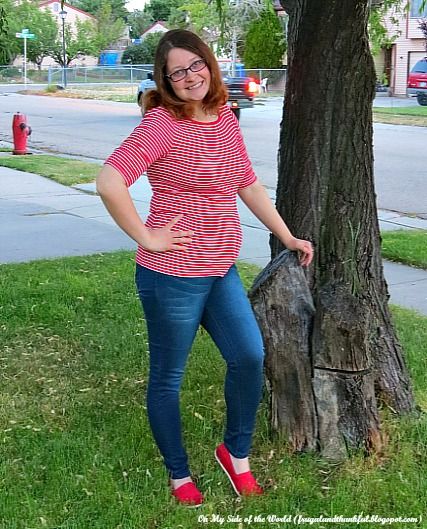 Skinny but very comfy maternity jeans (thrifted, Goodwill) - $5.99
Shirt (Old Navy clearance rack) - $4.99
Toms knock-off shoes (JC Penney) - on sale for $19.99 but used a $10 off $25 coupon. So $12?
And that's how we roll :) What about you?