Pin It
Now that I'm slowly getting back to being a somewhat functional human being, I jumped back on the decluttering wagon again. In fact, now clutter bugs me even more. It drives me insane!! I feel like I want to get rid of everything in sight and have bare walls that are easy to clean... In the past 2-3 weeks I've been throwing away or donating bags and bags of things - kitchen supplies, clothes, shoes, and old bags. And then papers. Lots and lots of old papers (yeah, who knows why I kept those school papers from 7 years ago...)
One thing that really inspires me is my trips to Goodwill. I've found a few cute maternity pieces there for a fraction of the price. Just because I'm pregnant, doesn't mean I should wear parachute-size shirts. Not yet, at least. I want this to be my cutest pregnancy yet since I am heavier than I ever was before with either of my pregnancies (hello, hypothyroidism!) and I'm not gonna get any smaller :)
I digress... But every time I go to Goodwill or even pass by the store, I try to take a few bags in. It helps to keep our house in order and hey, they give you a 20% coupon when you donate. Win-win in my book. My husband gently laughs at me that I'm already in a nesting mood. No, honey, not yet, I'm in the "decrappifying your hole" mood instead. I also got a nice pile of things in the garage that I want to list for sale on classifieds in July. Hopefully, I can make a little money to offset some babies' expenses.
Talking about those expenses, I'm yet to start buying anything for the little ones. I'm paranoid this way... Well, I did pick up a few packs of diapers on sale with coupons but nothing else really. But the other day I stumbled upon a nice deal on the local Facebook classifieds that I just couldn't pass by. I got
My Breast Friend Twins Plus Nursing Pillow with an extra cover in very decent condition: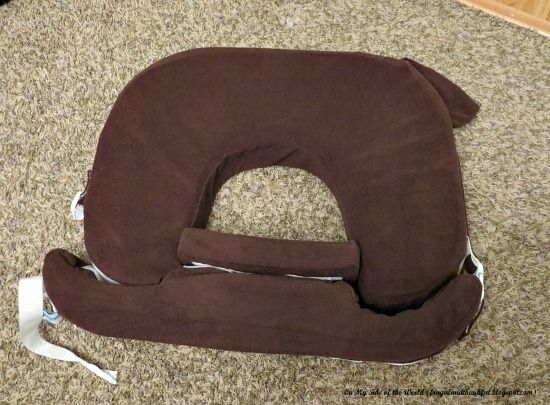 It was only $25. Last time I looked on Amazon, it was $79 (they lowered the price to $56 since but the covers are still $26). So I think it's a steal! Honestly, I'm not sure I'm even gong to breastfeed. I wasn't too successful with my other two kids but, as usual, I'm willing to give it a try. And if I don't end up using it, I can always turn around and sell it back for the same price. So consider it my first official baby purchase :)
OK, did this summer inspire you to do any decluttering in your house?