Pin It
I want to leave a disclaimer right away - if you decide to nitpick this recipe, then there are, probably, about 2-5 g of carbs in it (in tomatoes or olives, for example). But since most of the nutritionists consider all of the additions in the salad "free items", I prefer to think of it as a zero-carb option :)
I mentioned before that I've been struggling with a gestational diabetes diet, so I'm always on the lookout for something to fill in my tummy without the guilt trip afterwards. This salad was inspired by a local restaurant. Unfortunately, it was recently discontinued but since it's so easy to make at home, that's not much of a loss. It's filling and can be served as a separate meal with a side of brownie (right...)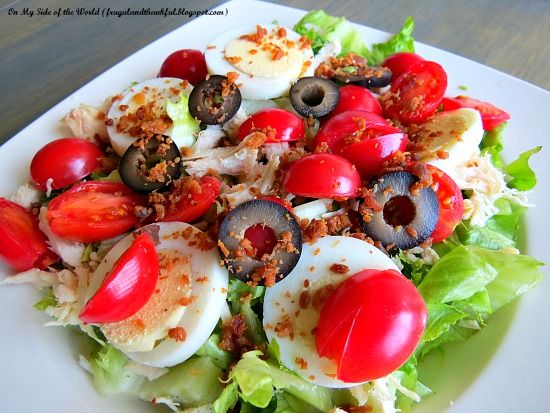 CHICKEN CHOPPED SALAD
You will need (for 1 serving):
2-3 leaves of romaine salad or red leaf for a little extra nutrition (as much as you want really)
1/2 cup chopped, cooked chicken
1 boiled egg
1 roma tomato
1 cooked slice of bacon (I cheated and used real bacon bits, about 1TB. Or more because everybody likes bacon :)
1/3 cup olives, sliced
1-2 TB ranch dressing (homemade or store-bought, can add more to taste)
How-to:
Chop the tomato. I actually added some halved cherry tomatoes from the last of our crop this year instead. Slice an egg. Toss all the ingredients together, add dressing and enjoy immediately. The original recipe also asks for some croutons to top it with but since I'm trying to keep it as close to a zero carb version as possible, I omitted them. It's still delicious, and did I mention almost no carbs???