Pin It
Just a warning: you might've noticed a bit of "dust" on my blog. I'm yet again changing things up here... I know, I change it way too often. But it's like changing an outfit: I'm just never satisfied :) Bare with me for a few days. I promise, it will not last long. In the meantime, I wanted to share with you something I made for a friend a couple of weeks ago.
I have a real cute, very pregnant friend. About two weeks ago two of my other friends threw a baby shower for her. It was an awesome day, and the future Mom looked absolutely adorable.
These two friends mentioned above asked me a few weeks prior to make a diaper cake for this special occasion. Those of you who have been reading my blog for a while, know that I used to have a small business making diaper cakes. If you are fairly new here, you can see a couple of my previous "creations"
here
and
here
.
And that's the cake I made for her:
She really wanted an elephant as part of her shower theme, and she also chose a banner the colors of which I was trying to incorporate in the cake: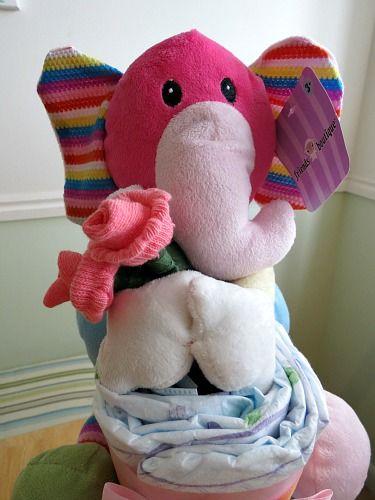 I have to tell you - I really, really, really miss making them. Honestly, I miss being a crafty, DIY girl. Lately my life is a constant cycle of working-cleaning-cooking-and then I start all over again :( I have SO many projects in my head that I have all or almost all of the supplies for. I just need time...Aaaa!! I want some of those caffeine patches from "Meet the Robinsons" so I can go without sleep for a while :)
How was your day??
I shared this post here:
By Stephanie Lynn
Tatertots and Jello