Pin It
Because we spent a good portion of last week on a vacation, we didn't have that much food waste. Would be nice if we didn't have any but alas. These were bagels from our trip that got moldy before we had a chance to finish them: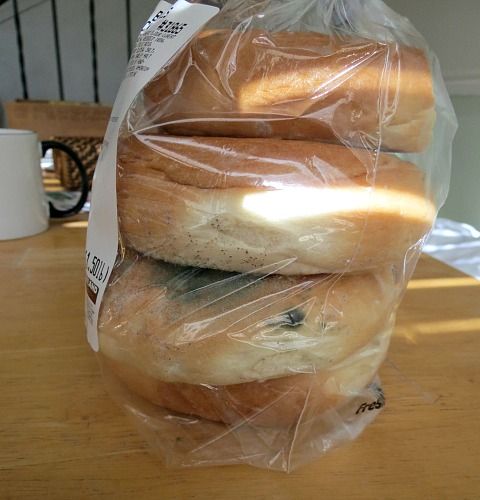 I also threw away a bad potato from our potato basket and a small box of raspberries. That was the saddest food waste because we all LOVE raspberries here. They looked really good but, I think, they were already getting moldy when I got them :( Meee...
I do want to try extra-hard to avoid food waste this week. When we came back home, my first impulse was to go and buy some fresh produce because we left our fridge literally bare before the vacation. But then I went to our garden and realized we had more than enough in our own back yard:
Definitely won't need any produce for a few days:) My tomatoes are coming in very slowly but I picked enough for a salad this week. We also have plenty of kale to add to the salad too.
Our goal in the next couple of weeks is to work through a good portion of what we have in the freezer. I want to make a bunch of freezer meals before the babies come. I did it with my second, and it was life-saving for us! I already started to line up the recipes on
Pinterest
(yum!!).
So this week on our menu so far:
Mon.- breakfast for dinner (eggs, hash browns, turkey bacon, smoothies)
Tues.- vegetarian burgers, potato chips (leftovers from the vacation)
Wed.- pasta with ham, mushrooms and peas (almost everything from the freezer)
Thurs.- fried potatoes with chicken, green salad
Fr.- Church picnic
Sat.- leftovers/ zucchini mini-quiches
Sun.- salmon, rice, stewed cabbage
What are you eating this week? And what is your favorite frozen meal recipe?